Telpo has developed a single-point temperature measurement solution based on privacy and security considerations.
It can provide contactless temperature detection + personal privacy protection in multi-scene.
"Touchless", "Rapid Response", "Privacy Protection",
"Card Access", "Flexible Deployment"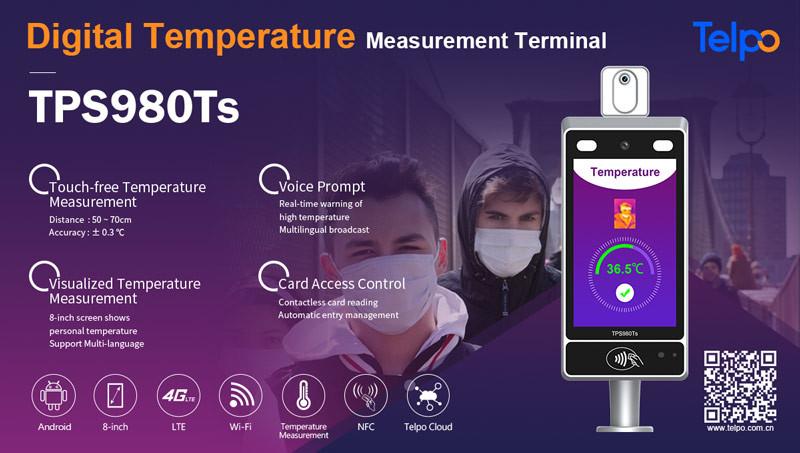 Main Features
1. Precision Touchless Checking
Infrared thermal imaging body temperature measurement.
Thermometry distance: 0.5-0.7m
Measurement range 30-45 (℃)
Error range: ± 0.3 ℃
2. Voice prompt High-Temperature Warning
Real-time warning of high temperature and can support multi-language broadcast.
3. Visualized Body Temperature Measurement
The 8-inch screen clearly shows the personal temperature
Multi-language version meets your needs
4. Card Access Control
Contactless card reading and automatic entry management
5. Flexible Deployment and Easy Installation
A variety of brackets meet the needs of changing scenarios.
6. Upload Temperature Information
Intelligent attendance and access control management,
abnormal temperature reporting, devices management, and data statistics.
7. Rich Ports
External ports enable the terminal to have access
to connect other peripherals and expand its application.
8.Applications
Subway / Enterprise / School and / Exhibition
Supermarket/ Restaurant / Hospital / Barber Shop