Telpo launched a temperature screening thermography camera V50 and a corresponding temperature measurement system.
It will conductive to quickly check and screen fever individuals and prevent epidemic spread.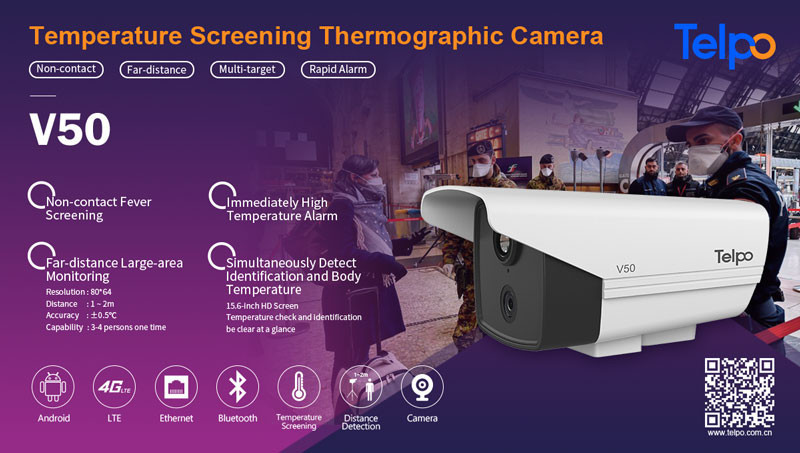 1.Non-contact Fever Screening to avoid physical contact
Equipped with a distance sensor, automatic temperature screening
Unobstructed, no need to wait.
2.Far-distance and large-area for monitoring
The temperature monitoring range is close to 2m,
Supports simultaneous detection of multiple body temperatures
Resolution:80*64
Measurement accuracy: ±0.5℃
Measurement distance:1.0-2m
3. Multi-person Dynamic Screening
Simultaneously measures the number of people reaching 4 people.
4. Simultaneously detect identification and body temperature
Once a high temperature is detected, the system will automatically alarm and display personnel labels.
5. Stay Connected with Speed and Ease
Support 4G, Ethernet, Wi-Fi, Bluetooth.
6.Cooperate with HD Display
15.6-inch Large Screen
Allow temperature check at a glance
7. Cloud data management and data synchronization
Data will be uploaded to the platform synchronously,
which can facilitate data tracing and timely find the suspected person and close contact person.