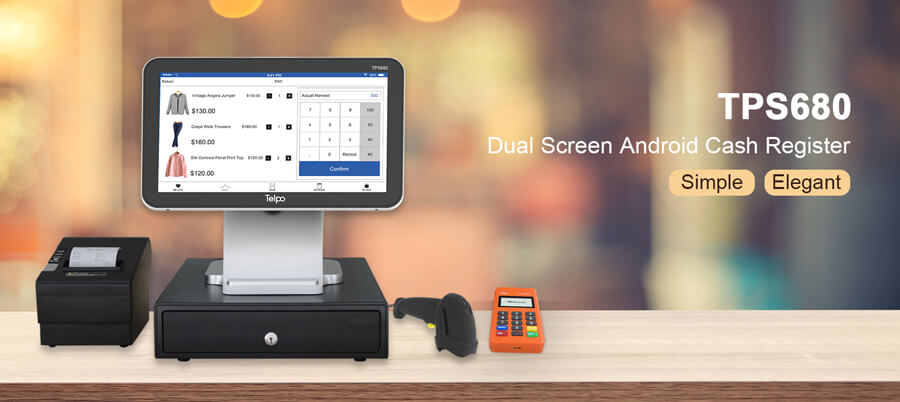 Dual Screen Android Billing Machine TPS680
As a representative of Smart Cash Register 5.0, Telpo TPS680 adopts a dual FHD screen, containing two high definition LCD(15.6 /11.6 inch) and abundant external interfaces. Exquisite appearance, detachable design, and powerful performance guarantee high-intensity working and visual experience.
Good compatibility allows the android billing machine TPS680 to be added to the face recognition module, acting as a self-service cash register device under the new retail.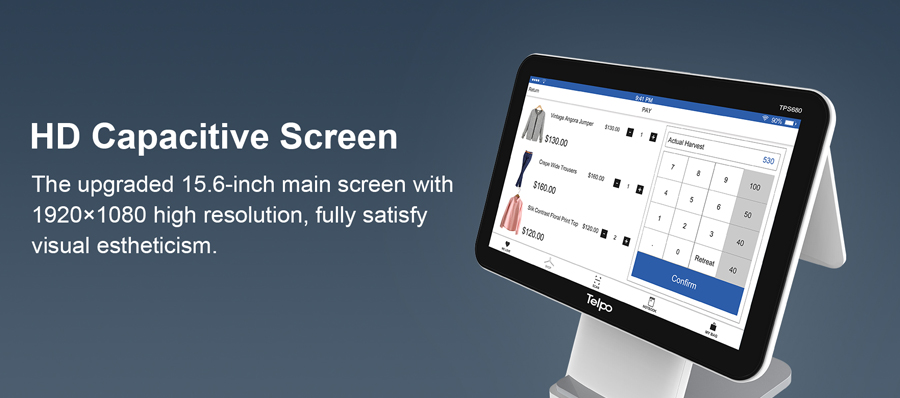 HD Capacitive Screen
The upgraded 15.6-inch main screen with 1920×1080 high resolution, fully satisfies visual estheticism.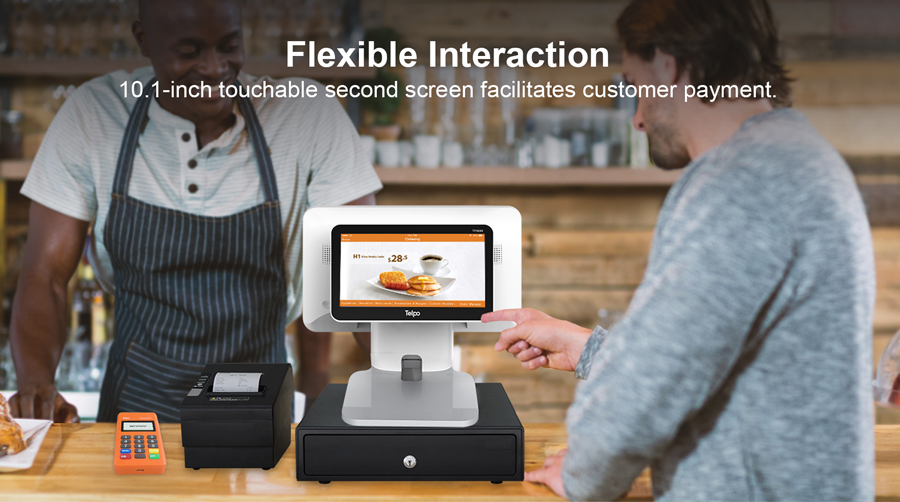 Flexible Interaction
Different products, bill details, QR-code, ADs can be shown.
10.1-inch touchable second screen facilitates customer payment.
All in One Payment
Intelligent hardware TPS680 supports face payment, WeChatPay, Ali pay, etc.
In smart restaurants, customers can choose smiles to pay or scan the QR code showed at the customer screen to pay.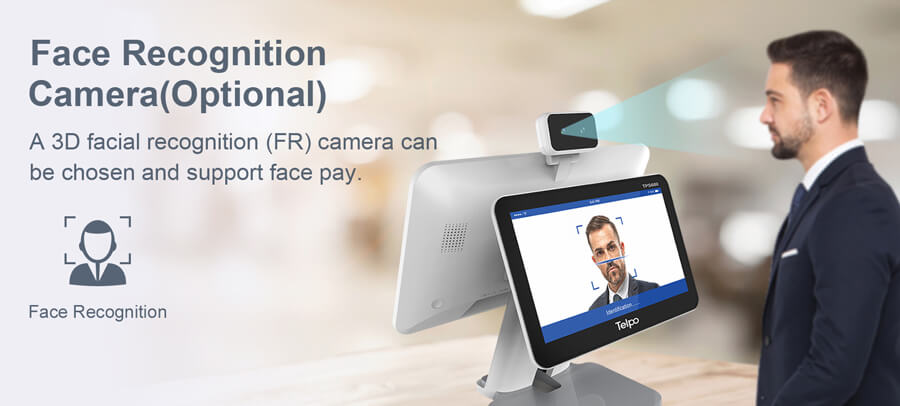 Face Recognition Camera (Optional)
A 3D facial recognition (FR) camera can be chosen and support Face Pay, Member Identification.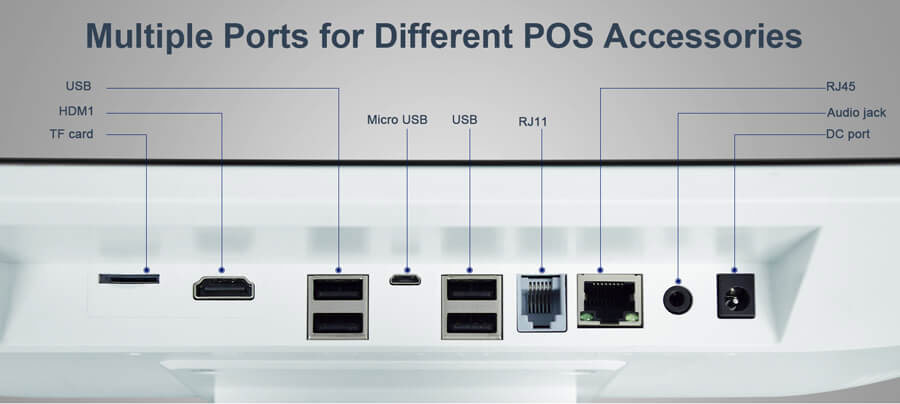 Multiple interfaces, Numerous applications
Telpo TPS680 billing machine has enough external interfaces, completely supports external applications such as cash drawers, scanners, invoice printers, credit card machines, electronic scales, and routers, etc.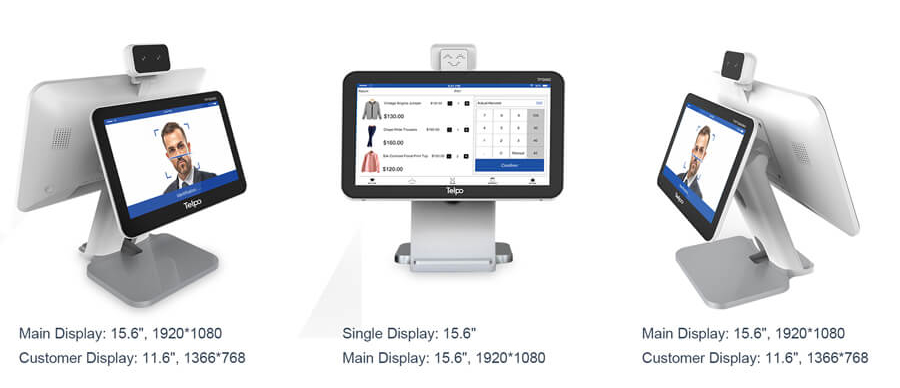 Single-screen HD screen facilitates touch-screen and operation.
FHD double screen perfect customer interaction and advertisement display.
Dual Display 15.6"+10.1"
Main Display: 15.6", 1920*1080
Customer Display: 10.1", 1024*600
Single Display 15.6"
Main Display: 15.6", 1920*1080
Dual Display 15.6"+11.6"
Main Display: 15.6", 1920*1080
Customer Display: 11.6", 1366*768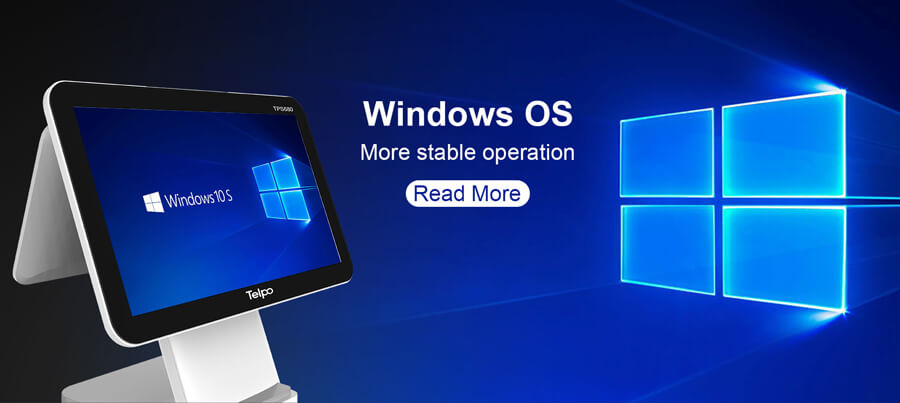 Strong Performance
Desktop Bill machine TPS680 adopts Android 7.1 and Quad-core 1.8Ghz, safeguarding the catering system and software.
Cash register TPS680 can customize the Android or Windows operating system to your requirements.
SDK and Professional help
Providing standard SDK documentation for developers.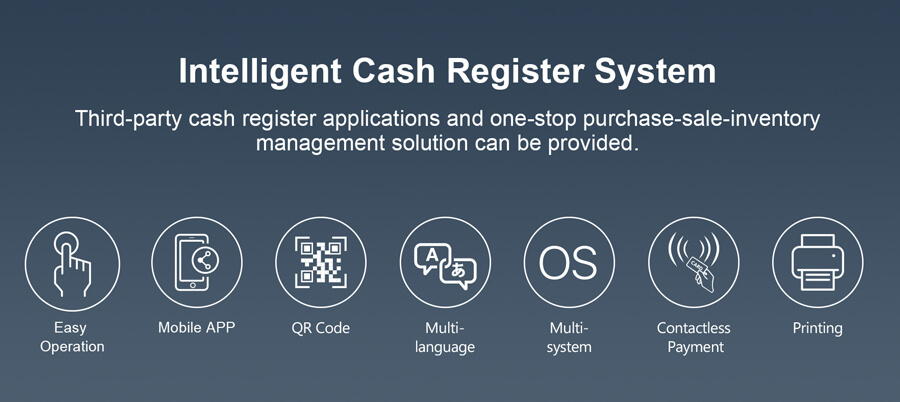 Intelligent SAAS POS System
Third-party POS applications and a one-stop purchase-sale inventory management solution can be provided.
Features:
The POS system can Easy Operation, Mobile APP, QR-code Order, Multi-language, Multi-system,
Contact/Contactless Payment , Cashier + Printing, Mobile Management , etc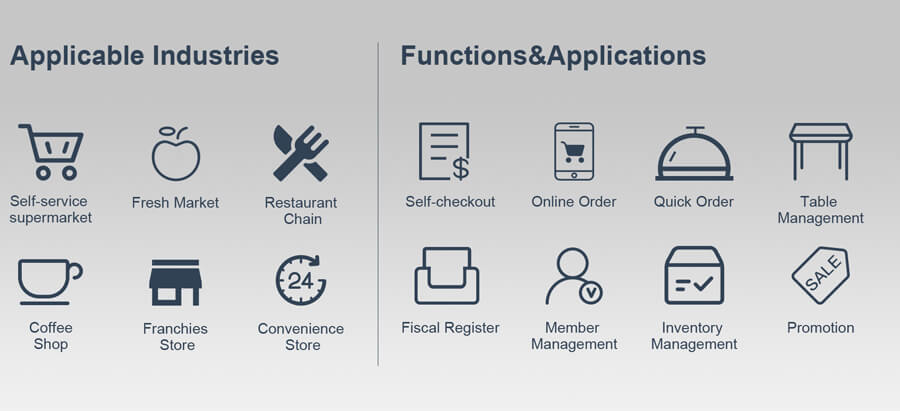 Applicable Industries
Android cashier machine TPS680 was used in the supermarket chain, franchise store, convenience store, fresh market, restaurant chain, coffee shop, and more stores
Functions&Applications
Billing machine TPS680 can Self-checkout, online order, take away, Quick order, table management, fiscal register, member management, inventory management, promotion, and marketing