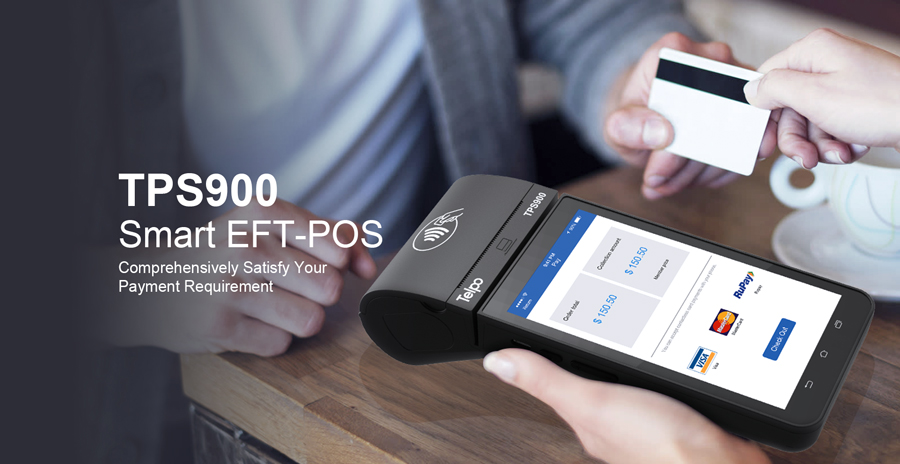 TPS900 EFT-POS, Comprehensively satisfy your requirement
Based on the Android operating platform, TPS900 supports Android 10 version.
It is equipped with various financial certifications such as EMV & PCI,
guaranteeing normal use of credit cards in different fields.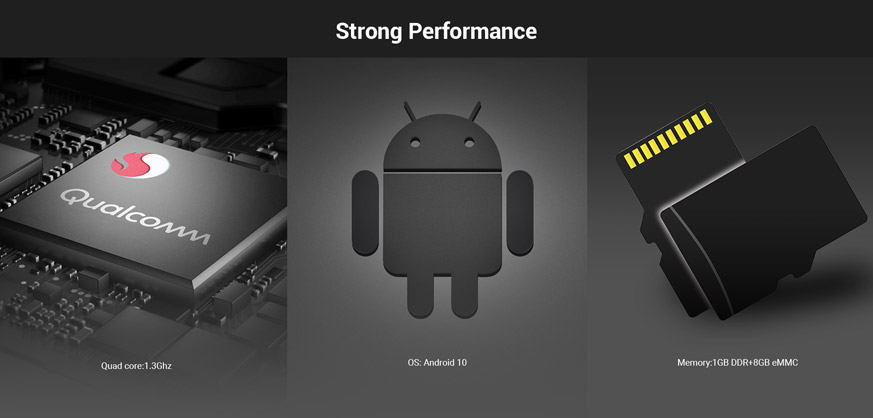 Good performance

Android system + Qualcomm chip enable high-intensity working.
5.5-inch Screen
Medium size, convenient carrying.
The industrial-grade screen enables strong sustainable performance
and excellent sunlight screen readability.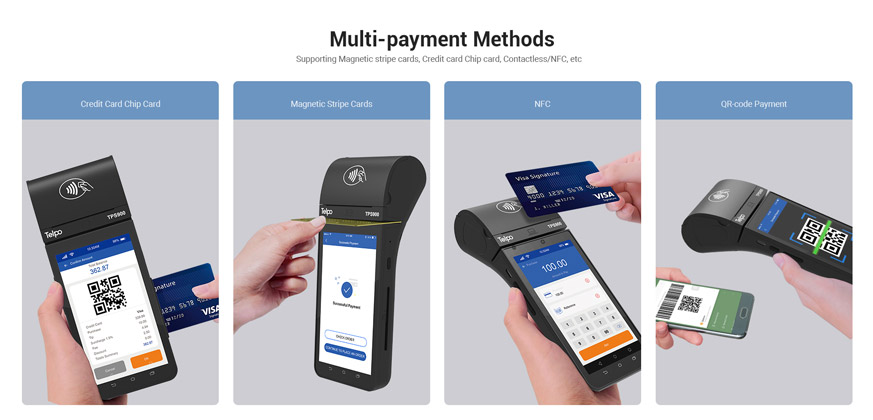 Multi-payment methods
Supporting Magnetic stripe cards, Credit card Chip card, Contactless/NFC, etc.
Dual Cameras
Front and back dual camera.
Quick to capture QR-code,support Alipay, Wechat Pay, Gcash, etc.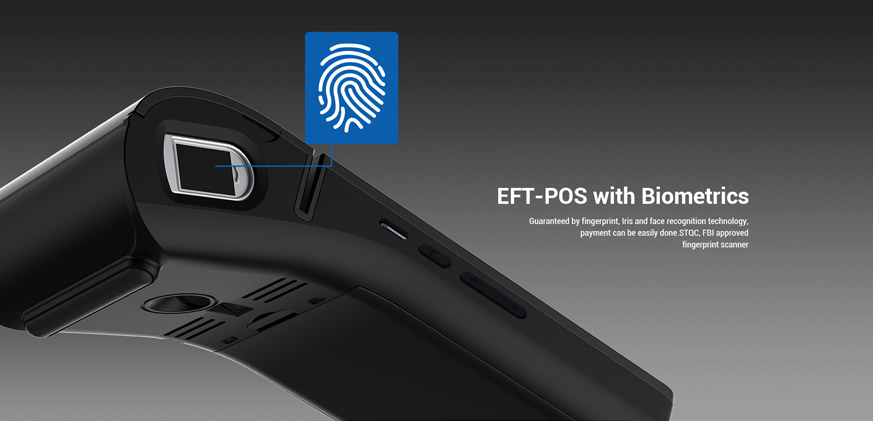 The first EFT-POS machine with biometrics
Guaranteed by fingerprint, iris, and face recognition technology, payment can be easily done.

Complete certification can eliminate the verified time and equipment cost.
( EMV Level 1& Level 2, PCI, PayPass, PayWave, TQM, Rupay, MIR, ANATEL, BIS, CE, FCC, RoHS, etc.)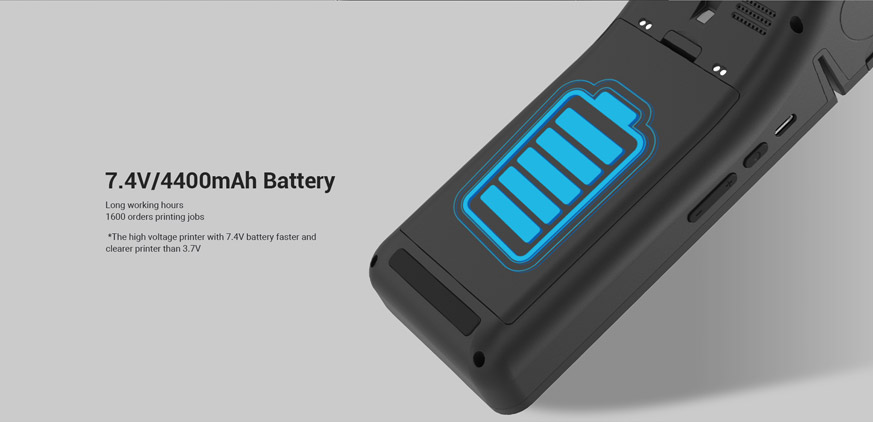 Small Size, Big Capacity
An expanded large battery makes a longer battery life.
Consistently work for 24h, support screen standby above 3 days,
operate 6000 credit-card consumption and print 1800 times.
The charging base allows the machine to charge and rest in time.
Clean up the mess of charging cables on the countertop.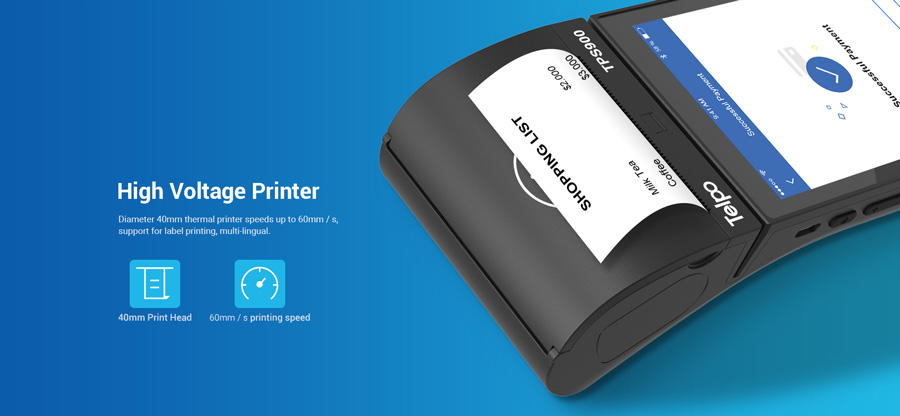 Additional Equipment
1. Silicone Case Optional.
The rubber case makes the machine screen more sturdy,
the TPS900 machine is durable and more resistant to falling.
The rubber case is very soft and easy to install.
2. Portable backpack
Mobile payments can be made immediately wherever you go.
Portable backpacks are ready for frequent mobile fee collections
and have been used by restaurants, hotels, parking lots, etc.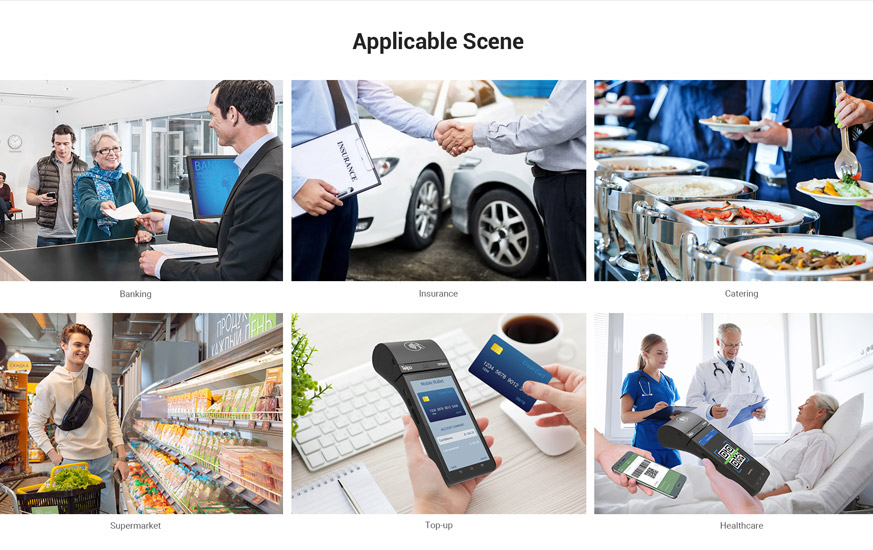 Application
EFT-POS TPS900 has been applied for retail shops, supermarkets,
cash register, account authentication, top-up, lottery, voting validator, transport validator, etc.
Feature-rich
The device offers multiple value-added services and features like payment acceptance through UPI QR, & EMI facilities.