To further improve temperature measurement efficiency and reduce human interactive infection risk,

Telpo launched AI face recognition temperature screening terminal TPS980M.
It can support 3-4 people simultaneously dynamic detect body temperature and quickly identity identification at a far distance,
which will effectively screen high-temperature population and accurate multi-person dynamic temperature detection.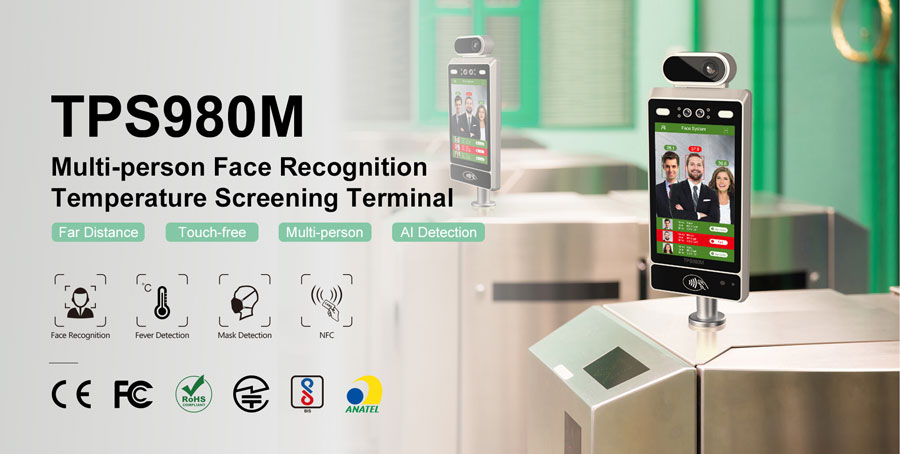 TPS980M
"Far Distance", "Touch-free", "Multi-person", "AI Detection"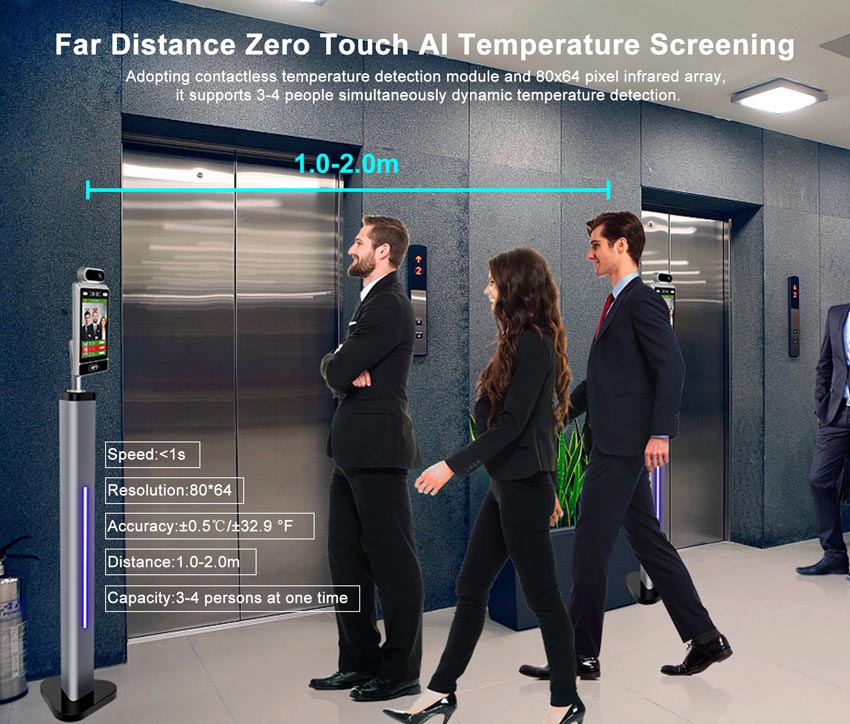 Main Features
1. Far Distance Touch-free AI Temperature Screening
Adopting the non-contact temperature detection module and 80x64 pixel infrared array
support 3-4 people simultaneously dynamic temperature detection.
Based on the deep learning algorithms, intelligently predict human body temperature
to achieve efficient and accurate temperature measurements.

Resolution : 80*64
Distance : 1 ~ 2m
Accuracy : ±0.5℃
Capability : 3-4 persons at one time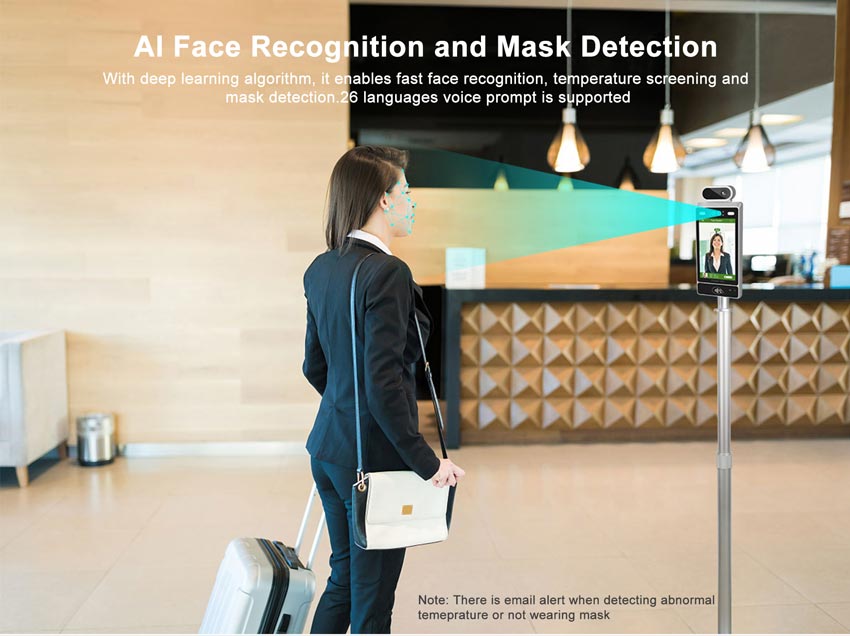 2. HD Screen Display And High-Temperature Warning
The 8-inch touch display supports simultaneous display multi-person body temperature.
High-temperature warning screen tips.
3.Mask Detection
Quickly screen whether passers wear masks;
Support multi-language intelligent voice prompt.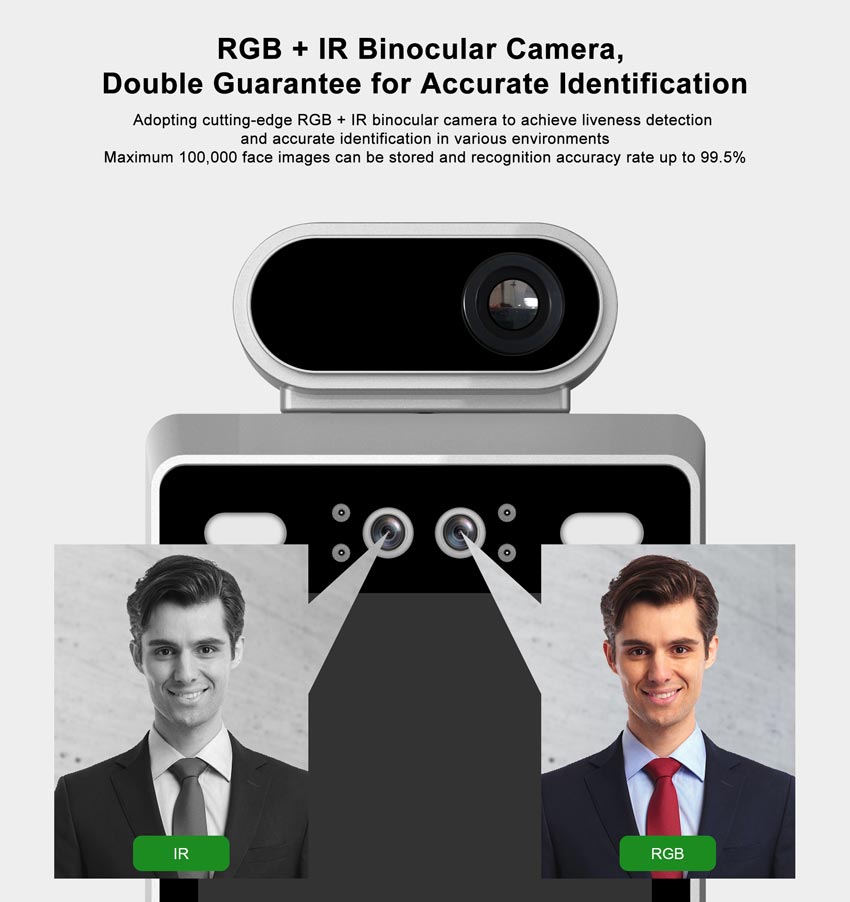 4. VL + IR Binocular Camera, Double Guarantee for Accurate Identification
Adopting a cutting-edge VL(Visible Light) + IR(Infrared) binocular camera to achieve liveness detection
and accurate identification in various environments
Maximum 10,000 face images can be stored and recognition accuracy rate up to 99.5%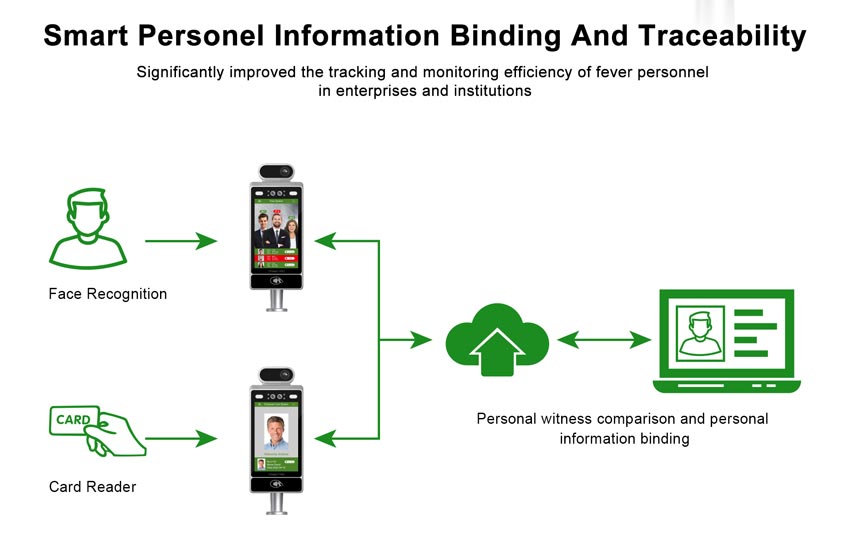 5. Smart Personel Information Acquisition And Tracking
Support card reader, face recognition, card reader + face recognition, human witness comparison etc.
It can quickly be screening personnel temperature,
greatly improve the efficiency of personnel tracking and monitoring