The background of the birth of Aadhaar Biometric Device
With the purpose of making Indian citizen accurately prove their identity, better enjoy social welfare, reduce welfare fraud and fight against corruption among government officials, the Indian government rolled out the Aadhaar program in 2009. Today, 1.24 billion Aadhaar cards were given out.
In this article, we will introduce more details about the Aadhaar and related Aadhaar biometric device systems.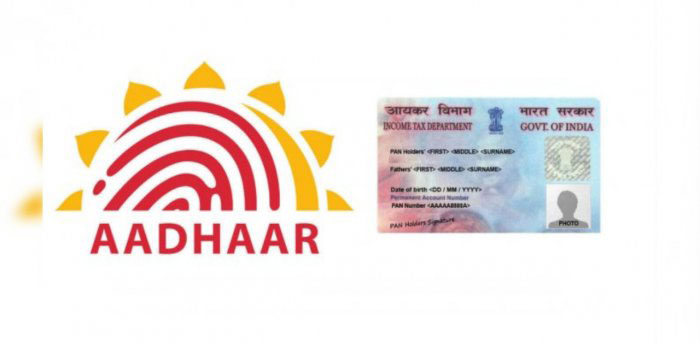 What is Aadhaar?
Aadhaar is the world's largest biometric ID system by so far. Aadhaar contains 12 digit random numbers issued by the Unique Identification Authority of India (UIDAI). Every Indian resident can gain a unique Aadhaar ID number after completing the verification organized by the UIDAI. The Aadhaar card and e-Aadhaar are also available.
The Aadhaar card is a biometric document that will store an individual's details in the government database. With the unique characteristic, the Aadhaar card has become the government's backup for public welfare and citizen services. With the Aadhaar ID number, the Indian citizen can prove who they are anywhere and anytime and easily access services related to various social welfare in education, banking, health care, agriculture, insurance, telecom, and so on. Now Telpo has introduced Aadhaar Biometric Device.
What is an Aadhaar biometric device?
The Aadhaar biometric device refers to the device that captures the biometric data of the Aadhaar number holder, including fingerprint, iris, face, etc. The UIDAI has cooperated with STQC to set up technical standards for the security equipment in a bid to enhance the security level.
Under such circumstances, the UIDIA introduced register device (RD) services in security equipment installations as per the latest security guidelines. Only those devices (vendors) that are registered with the Aadhaar system for encryption key management and certified by UIDAI will be authenticated. The Aadhaar authentication server has the right to identify and validate these biometric devices and manage encryption keys on each registered device.
It was reported that there are mainly two kinds of biometric devices, one is discrete devices, and another is integrated devices. The former refers to the biometric device that needs to connect with other devices such as PC/laptop/Micro ATM etc. The latter represents the security equipment that owns the sensor integrated into the device package. People can choose the appropriate security equipment and authentication type (single biometric or multi-modal biometric) based on their actual demand.
What is the usage of the Aadhaar biometric device?
1. Bank account
Aadhaar is mandatory for opening a bank account. Every existing bank account holder needs to provide their Aadhaar numbers to the bank, otherwise, his account will be deactivated. Today, people can link their Aadhaar numbers to the bank accounts via internet banking, mobile banking, phone banking, SMS, ATMs, or the physical bank where the account is being operated. Professional Aadhaar biometric device can prevent the leakage of personal privacy.
2. Mobile Verification
As fake documents will be sent via SMS and utilized by some criminals, thus telecom service providers are required to stop this illegal action. The government demands mobile phone numbers should be linked with Aadhaar, no matter the new or the existing one.
3. Employment Provident Funds Account
The Employees' Provident Fund Organization (EPFO) has made it compulsory for its members to link their UAN (Universal Account Number) with Aadhaar. It allows them to check their provident fund balance, submit claims and withdraw funds online through the EPF member portal.
4. Permanent Account Number (PAN) card
People are required to link their PAN with Aadhaar when they apply for the income tax return, according to the Central Board of Direct Taxes (CBDT).
5. Academic scholarship
Students who need to apply for academic scholarships and other educational benefits are also demanded to provide their Aadhaar numbers. Aadhaar Biometric Device is good for certification.
6. Passport
The Aadhaar card is listed as one of the mandatory documents to apply for the passport by the Ministry of External Affairs. If you want to get a passport, you should provide your Aadhaar. Through this Aadhaar Biometric Device, you can pass quickly in green, convenient and fast.
7. Transportation
In response to plugging misuse and leakages of the ticket, the Indian Railways demanded passengers who want to enjoy the f concessions on railway tickets offer their Aadhaar by Aadhaar Biometric Device.
8. PDS benefits
All public distribution benefits have been linked to Aadhaar. Individuals who do not link their Aadhaar with ration cards cannot get all the PDS subsidy benefits.
How to create an Aadhaar biometric device system for identity verification?
As we know, Aadhaar is similar to the unique digital ID. To create a digital identity or biometric device system, collecting and enrolling individual preliminary biometric data is crucial. And it requires a biometric device to take effect. Thus, how does the biometric device works?
Generally speaking, the basic process contains capturing, verifying, and digitalizing the biometric data. The details of each step may vary according to the actual demand and the regulations they are subject to.
1. Capture: According to the on-site demand, the individual should place their fingerprint on the fingerprint reader or look at the iris scanner or face camera. As the biometric device integrates a face recognition camera, fingerprint scanner, and iris scanner, it can capture an individual's biometric information include the face, fingerprint, iris, etc.
2. Verify: After capturing the biometric data, the biometric device will compare the scanned data with other official identity documents provided by the individual. As biometric data is hard to copy or theft, it is reliable proof to verify whether the people are who they claim to be. There is no doubt that the higher level of the biometric device ensures more accurate results.
3. Digitalize: The Aadhaar ID can be created after matching the biometric data and the identity document. As the biometric data can be stored at the biometric device or uploaded to the biometric device system with communication, thus the individual can visit a relative server with their Aadhaar ID number. They can access the requested biometric attribute such as fingerprint, face, or iris.
Telpo Aadhaar Biometric Device
When it comes to creating the Aadhaar biometric device system, namely, the identity authentication platform, it requires superior and safe Aadhaar biometric devices to collect, input, upload, and store individual biometric data.
With the mission of creating a colorful future, Telpo launched a series of Aadhaar biometric devices. Telpo Aadhhar biometric devices are good for accurately collecting individual information and promoting the implementation of all social welfare services as they support multi-modal biometric such as the face, iris, and fingerprint recognition.
Handheld Biometric Device TPS360
5-inch 720P HD screen, easy to hold and carry
Multiple fingerprint scanners optional to meet more fingerprint acquisition demands
Optional 5MP/8MP rear camera and 2MP front camera with strong expandability
3000/5000mAH or larger battery optional ensures the longer service life
Support NFC/IC card for various verification scenes
Silicon rubber case + 1.5m fall prevention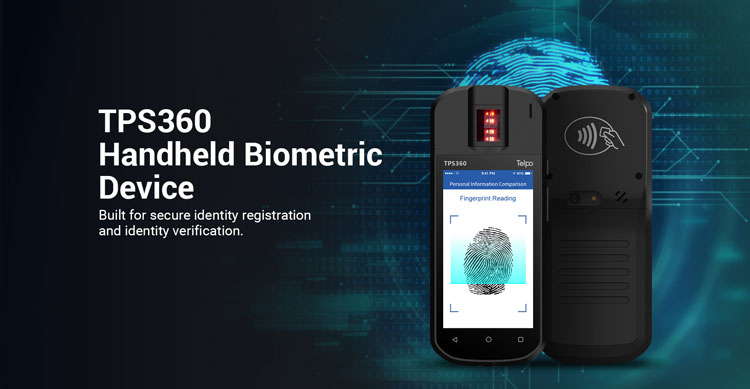 Mobile Biometric Tablet TPS450
8-inch display + Android 7+
Support NFC/IC card
13MP rear camera + 5MP front camera support taking photo and scanning code
External Zink printer, ten-finger (4-4-2) scanner, power bank (20000mAh) are available
Support card/face/iris identification (optional)
Wrist strap+ 1.5m fall prevention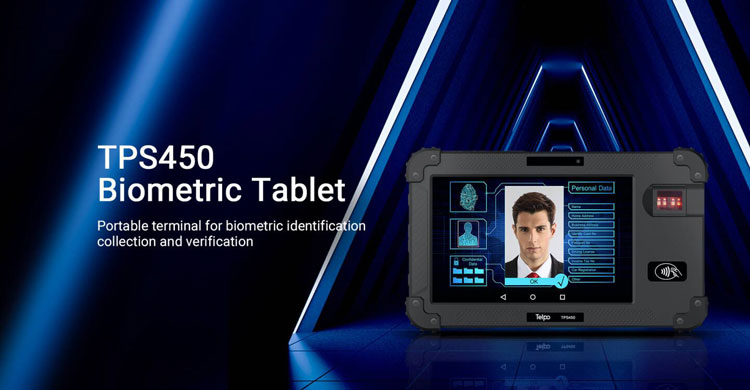 Smart EFT POS Swipe Machine TPS900
5.5-inch screen, Android 10 OS + Quad-Core 1.3GHz processor ensure smoother operation
Large battery with 4400/5000 mAh
Thermal printer with super high speed
Support side-mounted sensor or end-end fingerprint sensor
Optical fingerprint sensor or capacitive fingerprint sensor optional.
Fingerprint scanner with STQC Certified and RD SERVICES allowed
Accurate iris recognition
Plug and play USB high-speed interface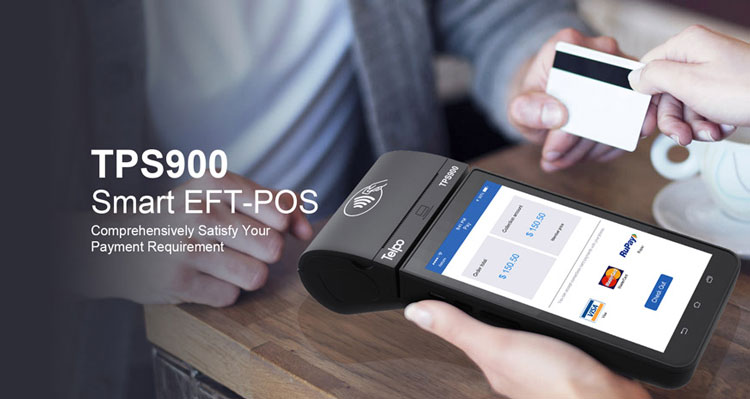 Durable Waterproof Biometric Tablet S10
10-inch display + 5-point capacitive touchscreen + Android 10 allow maximized performance and flexibility of data acquisition and matching
10000 mAh removable battery + charge with solar empower constantly working
Dual cameras (13MP+5MP) + portable biometric security kit improve user experience
External Zink printer or 80mm thermal printer with fast printing speed ensures timely obtain identity credential
FAP60 ten-finger scanner with LES technology ensures quickly capture fingerprint with higher security
Multiple data capture include contactless card reader (NFC/RFID), iris scanner, MRZ scanner, and IC card reader, electronic signature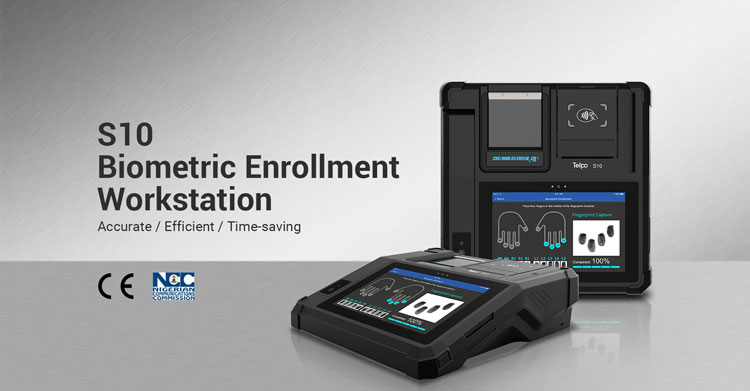 Telpo portable and powerful Aadhaar biometric device with superior configuration and cutting-edge fingerprint sensor and iris senor is easy-to-use and able to identify individual identity faultlessly. It delivers trusted social welfare services in any sector at anytime and anywhere, including education, banking, health care, agriculture, insurance, telecom, etc. If you want to more details, welcome to contact us.
Tag: Aadhaar, biometric device, biometric device system, security equipment, Aadhaar Biometric Device