How Biometric Device Assist Public Distribution System And Aadhaar Authentication?
Biometric Device assists Public Distribution System. With the aim to promote the digital transformation of the economy and society and foster international competitiveness, India proposed the strategy of "Digital India" in 2015. To make residents get their deserved social welfare and subsidies, reduce identity theft and fraudulent activities as well as solve government corruption, the Direct Benefit Transfer (DBT) system that synchronizes the Aadhaar card system with the public distribution system (PDS) was introduced.
What is Public Distribution System?
The Public Distribution System is an important part of the social security system. It is a retail commercial system that provides basic life security for low-income residents with financial subsidies through fair price shops (FPS) or ration shops under the supervision and guidance of the government. Today, there are hundreds of thousands of fair-price shops in rural and urban areas across India, which will offer food, staples, grains, and other necessities at subsidized prices to the poorer sections.
However, when it comes to the implementation, there exists a series of problems due to the difficulty of identity identification and subsidies application. It is not an easy joy to judge whether the citizen conforms to the subsidy conditions without effective identity proof, leading to bonus ration cards failing to reach the poor.
To solve this problem, the Aadhaar card with biometrics was introduced, in response to eliminating the bogus cards and shadow cards by specific unique Aadhaar numbers. The fair price shop will verify whether the people are entitled to subsidies with the Biometric Device so as to improve the equity, transparency, and efficiency of the beneficiaries.
What is Aadhaar Biometric Authentication?
To guarantee the qualification of getting the service or benefit, the applicant needs to submit their identity proof. Nevertheless, verifying and validating the submitted document information also cause challenges to service providers.
The Aadhaar is a 12-digit unique random number issued by UIDAI to all Indian residents. As there is no chance of two people having the same fingerprints and iris structure, thus the Aadhaar is also considered as the unique identity proof for every individual. And that's also the reason why the Aadhaar biometric authentication is able to make identity identification easier and even more accurate.
The Aadhaar biometric authentication refers to the process that verifies the resident's Aadhaar number and the information associated with it his demographic and biometric details. The Biometric Device will capture the biometric data and check whether it matches with the data available with the UIDAI's Central Identities Data Repository CIDR or not.
If each fair price shop could use the Biometric Device that supports the fingerprint and iris scanner, it could enable the beneficiary to make identity identification with his fingerprint and iris in superior high accuracy and good to remove the issue of duplicity and false identity. In this way, the PDS services could be provided and allocated to the deserved beneficiaries.
What are the benefits of Aadhaar biometric authentication?
As we already know that the Aadhaar number will contain personal demographic as well as biometric information. Thus, the Aadhaar card benefits both public/private service providers and entities to implement the Aadhaar biometric authentication process. In addition to the high level of security, the Aadhaar biometric authentication also empowers other benefits. Following are some of them.
Reduce the stack of paper documents. In the past, PAN cards, passports, driving licenses, and other paper documents could be used to prove someone's identity in India. As those identity proofs are issued by different governing bodies, it increases the huge difficulty to authenticate the authenticity of various paper documents. The Aadhaar biometric authentication makes it easier and beneficial to reduce the stack of paper documents as people only need to provide their Aadhaar numbers to verify themselves.
Simplify the identification process. It is quite a hard and complex process to verify an individual's various identity proofs from different governing bodies. The Aadhaar enables people to contact only one single governing body and verify their identity in a fast way.
Ensure the rights and interests of the deserving residents. The Aadhaar biometric authentication is designated to verify the residents' identity and help the qualified one obtain deserving subsidies. With the unique feature, it helps relative entities to accurately verify applicants' identity and judge whether conform to the subsidy standard. It will reduce fraudulent activities, save the government's resources as well as guarantee the benefits are given to the deserved one.
Authenticate financial transactions. Apart from identifying services and subsidies, the Aadhaar biometric authentication is also conducive to authenticating financial transactions. The Unified Payment Interface (UPI) allows the service providers to verify the individual's financial transaction. In addition, the BHIM (Bharat Interface for Money) mobile application was released to validate transactions and payments among individuals and merchants by Aadhar biometric authentication.
Improve Security. Security is still the priority and biggest concern in every country. The Aadhaar biometric authentication makes authorities able to conduct serious security check-in in high-security places include airports and banks. With the biometric data, the corresponding departments can control people's access to the highly secured areas. Individuals only after authentication can be granted entry to the restricted areas.
With the help of its biometric feature, response speed, accuracy, and reliability, Aadhaar is undoubtedly one of the most efficient ways to authenticate an individual's identity.
How to choose a high-quality Biometric Device?
To begin with, we should know that the Aadhaar biometric data consists of three parts, namely, photograph, fingerprints of all 10 fingers, and iris scan of both eyes. If someone requires getting the Aadhaar card, then his fingerprint and iris data must be provided. And the Biometric Device is the tool to help them do this work.
Under such conditions, a high-quality Biometric Device is necessary. When it comes to the selection of the Biometric Device, the following listed elements should be taken into consideration.
Basic Configuration: CPU and internal memory will directly affect the operation and compatibility of the Biometric Device. The higher configuration of the Biometric Device, the higher intensity, and more complex work tasks could be done by it.
Screen Resolution: As the biometric data, fingerprint and iris will be captured and scanned by the Biometric Device and displayed on the screen, thus appropriate brightness and resolution will help staff see it clearer and easier to match it with the database.
Data Capture: There is no doubt that biometric data capture is the most important function of the Biometric Device. To ensure the accuracy of individual data collection and make ensure the scanned data reach the enrollment standard, a leading fingerprint scanner and iris scanner should be contained at the Biometric Device. Besides, specific project requirements, biometric, identification methods, communication, etc are also taken into consideration.
Battery life: For identity registration with high frequency and long working hours, battery capacity is undoubtedly a significant factor. Only the Biometric Device with a big battery and flexible charging method can guarantee continuous working.
Certificate: There is no doubt that the certificate is the most direct and effective method to judge whether the Biometric Device is qualified for specific testing requirements and recognized by authorized institutions. It will ensure the device can be stable and suitable for use in relative environments.
Brand: The company brand has a decisive impact on R&D capability, product quality, team resource, technological support, after-sales service, and other conditions. If you want to find a high-quality Biometric Device, a company with rich experience and successful project cases will be better.
Telpo Aadhaar Biometric Device
With the mission of creating a colorful future, Telpo released Aadhaar Biometric Device that supports RD SERVICE and relative security demands. Telpo Aadhhar Biometric Device is conducive to ensuring accurate and comprehensive individual information capture and promoting the implementation of governing bodies related to the PDS service and other social welfare schemes as it supports face, iris, and fingerprint recognition.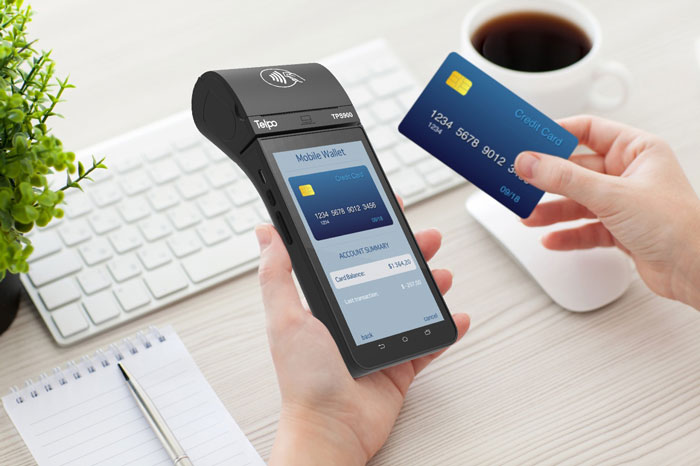 Smart EFT-POS Swipe Machine TPS900
Telpo portable and multi-functional Aadhaar Biometric Device TPS900 comes with leading configuration and multi-modal identity verification. The cutting-edge fingerprint scanner and iris scanner with relative certificates push its accuracy and reality to the next level. It enables you to deliver trusted social welfare services in any sector at anytime and anywhere, including education, banking, health care, agriculture, insurance, telecom, etc.
Feature:
l 5.5-inch screen, Android 10 OS + Quad-Core 1.3GHz processor ensures smoother operation
l Large battery with 4400/5000 mAh
l Thermal printer with super high speed
l Side-mounted sensor or end-end fingerprint sensor optional
l Optical fingerprint scanner or capacitive fingerprint scanner optional
l Fingerprint scanner with STQC Certified and RD SERVICES supported
l Accurate iris recognition
l Plug and play USB high-speed interface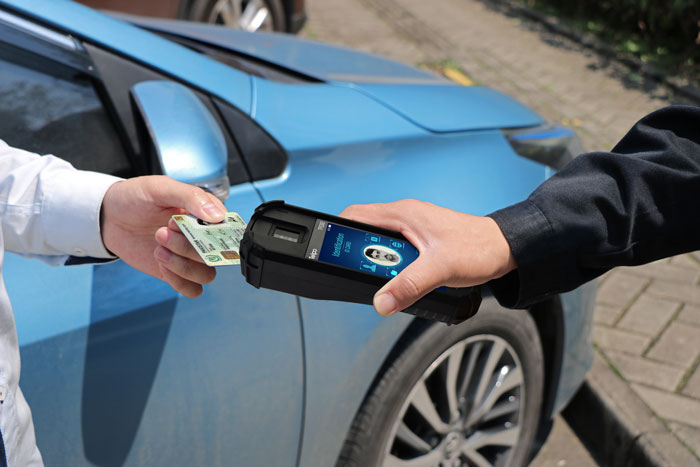 Handheld Biometric Device TPS360
Telpo portable handheld Biometric Device TPS360 is easy-to-use for an efficient identification process. The optional identity identification makes it able to verify individual identity faultlessly. It enables you to flexibly deliver trusted social welfare services to the deserving applicant.
Feature:
l 5-inch 720P HD screen, easy to hold and carry
l Multiple fingerprint scanners optional to meet more fingerprint acquisition demands
l Optional 5MP/8MP rear camera and 2MP front camera with strong expandability
l 3000/5000mAH or larger battery optional ensures the longer service life
l Support NFC/IC card for various verification scenes
l Silicon rubber case + 1.5m fall prevention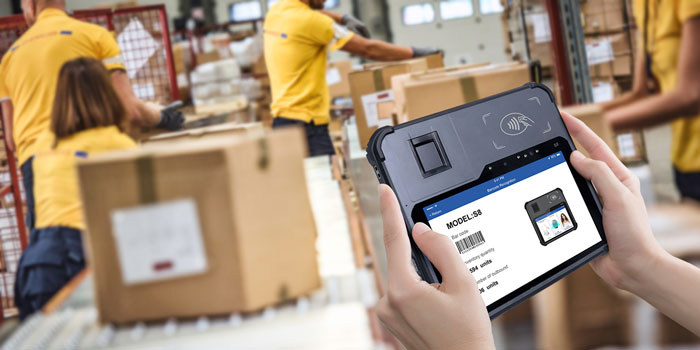 Biometric Tablet S8
Telpo biometric tablet S8 is an 8-inch multi-modal Biometric Device with 4 biometrics (face recognition, fingerprint recognition, iris recognition and voiceprint), which enables high accuracy biometric acquisition and matching at any time and anywhere.
Feature:
l 8-inch + 400nit sunlight-readable screen+ Android 9
l Multi-modal biometrics (face recognition, iris, fingerprint)
l Various verification methods include 1D&2D, NFC, OCR and passport MRZ
l Multi-fingerprint scanners optional (IB Columbo/ Sherlock, Suprema BM-Slim2/3 )
l User-friendly design with IP65, support gloves and wet hands operation
l External Zink printer is available
l Certificate: CE, FCC, RoHS
Founded in 1999, Telpo has years of experience in the presidential election, citizen registration, border control, and other projects with an industrial recognized reputation in the security market. Up to now, Telpo has served 1000+ customers and its products cover 120+ countries. Importantly, Telpo can provide professional advice and even customize the Biometric Device according to the actual requirements. If you want to know more details, welcome to contact us.
Tag: Biometric Device, Aadhaar biometric authentication, PDS