In order to meet the needs of real-time temperature detection and personnel healthcare management at the entrance and exit,
Telpo specially launched the desktop temperature measurement terminals TPS680T,
which support face identification and temperature measurement.
Both can identify people at a distance and improve traffic efficiency.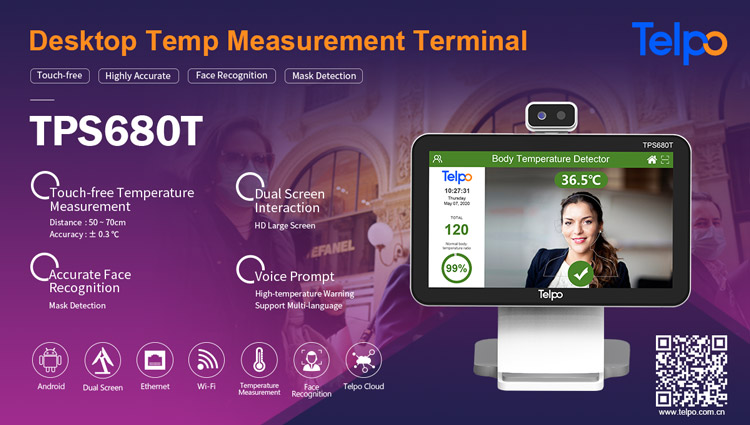 Telpo Countertop Temperature Measurement Terminal TPS680T
Features:
1. Touch-free Temperature Measurement
High accurate Infrared thermography
Distance : 50 ~ 70cm
Accuracy : ± 0.3 ℃
2. Enhanced Visible Light Facial Recognitoin
with Deep Learning built-in
3. Accurate Face Recognition and Mask Detection
Up to 10,000 face templates capacity
4. 15.6-inch HD Screen, with optional secondary screen
Support Dual screen interaction
5. Voice Prompt and High-temperature Warning
Support Multi-language broadcasting
7.Compatible with external RJ45, RJ12, micro USB and USB.
8.Ethernet, Wi-Fi, Bluetooth communication.

Perfect Combination, Better Performance
Equipped with signature pad, NFC/ ID card reader, TPA150 QR code scanner,
passport OCR reader and other devices
to simultaneously realize dynamic temperature monitoring and identity verification.

Application
It is suitable for human witness comparison, visitor registration,
temperature monitoring in enterprise, hotel, bank, airport, hosptital, etc.