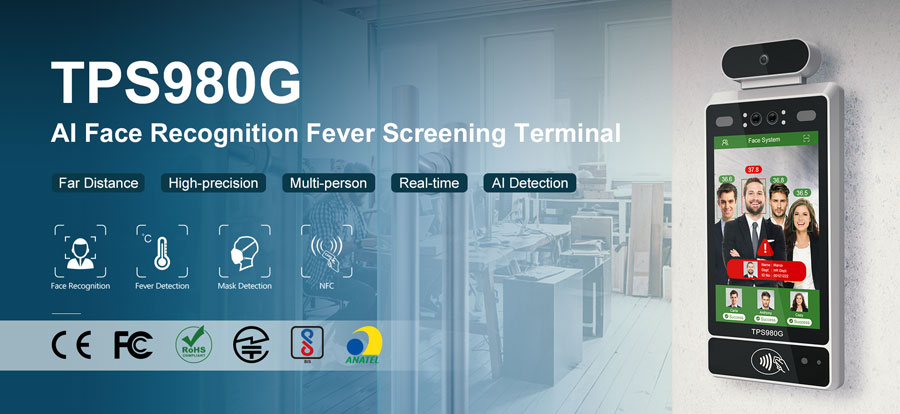 AI Face Recognition Fever Screening Terminal TPS980G
Far Distance, High-precision, Multi-person, Real-time, AI Detection
Face Recognition, Fever Detection, Mask Detection, Card Access Control
Certificates: CE FCC, RoHS, TELEC, Anatel, BIS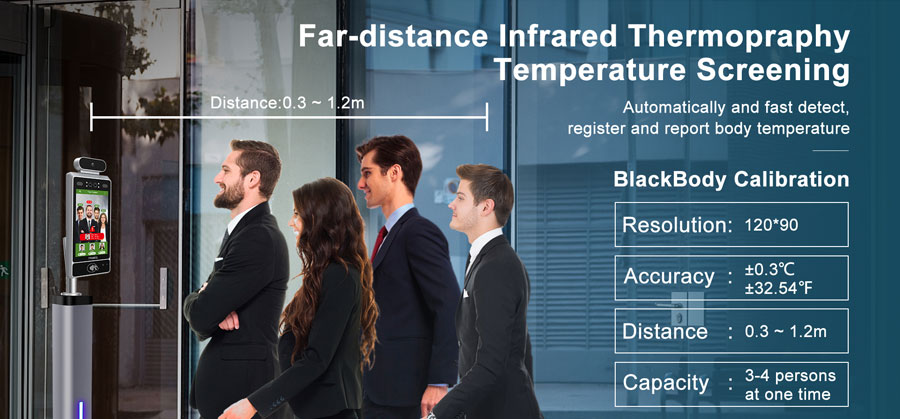 Far-distance Infrared Thermography Temperature Screening
Automatically and fast detect, register and report body temperature

and Built-in BlackBody Calibration
Resolution: 120*90
Accuracy: ±0.3℃ /±32.54℉
Distance : 0.3 ~ 1.2m
Capacity: 3-4 persons at one time
Note: Supports switching between Celsius and Fahrenheit.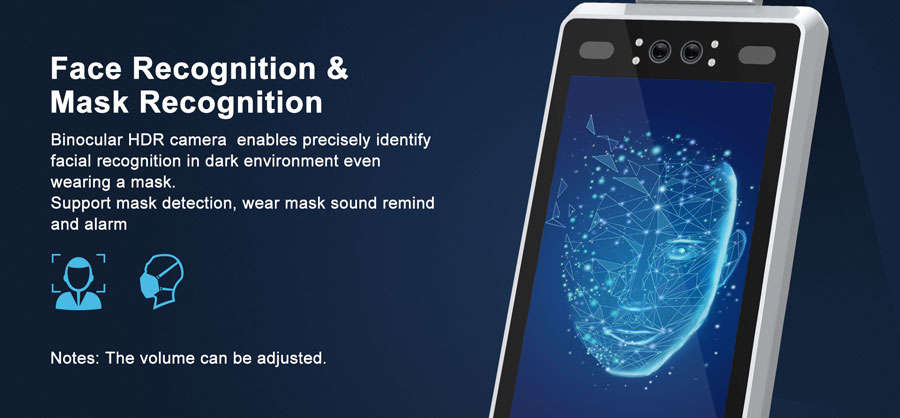 Face Recognition & Mask Recognition
A binocular High-Dynamic Range(HDR) camera enables precisely to identify facial recognition in a dark environment even wearing a mask.
Its support mask detection, wear mask sound remind and alarm, as you require.
Notes: The volume can be adjusted.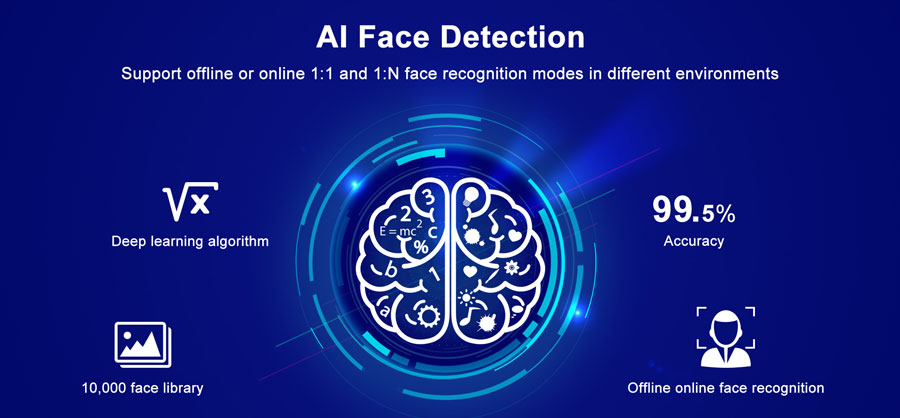 AI-powered Face Detection
Adopt deep learning algorithm ensures face recognition accuracy(FRA) up to 99.5% and false recognition rate(FRR) <0.5%.
This face scanner support 1:1 and 1:N face recognition of offline & online version at different environments with 10,000 face library.
It's mean that it can meet the face inspection of 1 person or multi-person at the same time and realize rapid fever screening.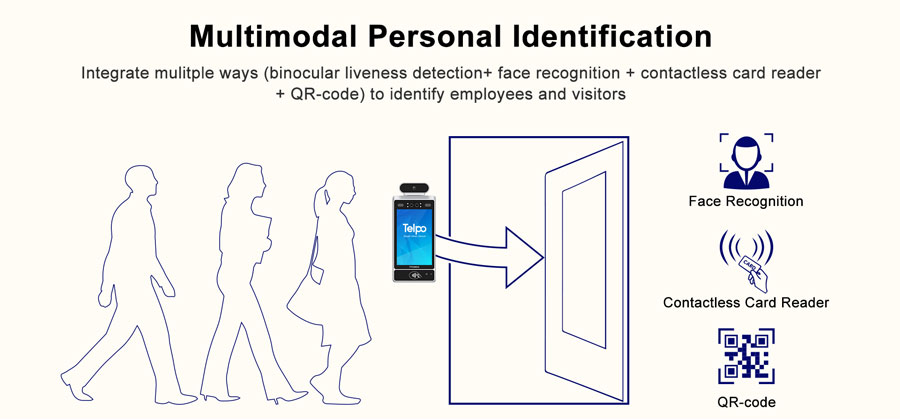 Multimodal Personal Identification
Integrate multiple ways, such as binocular liveness detection, face recognition, contactless card reader( including HID card), QR-code to identify employees and visitors.
The device supports QR code recognition to meet visitor registration and control door opening.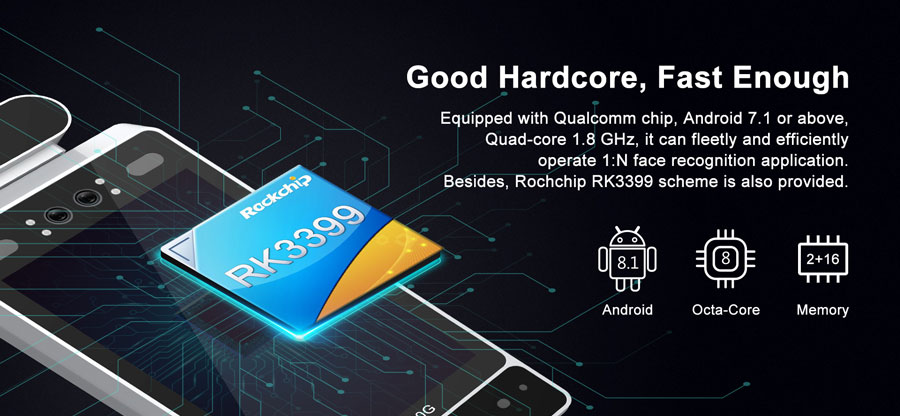 Good Hardcore, Fast Enough
Equipped with Qualcomm chip, Android 7.1 or above, Quad-core 1.8 GHz, it can fleetly and efficiently operate 1:N face recognition application. Besides, the Rochchip RK3399 scheme is also provided.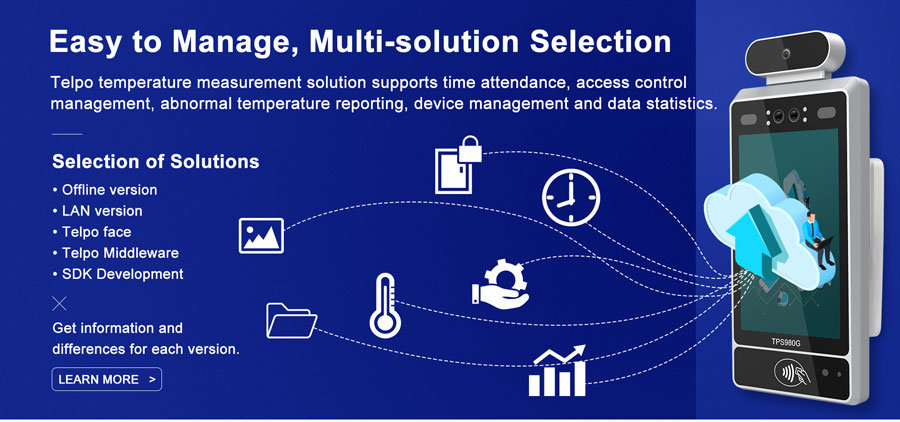 Easy to Manage, Multi-solution Selection
Telpo temperature measurement solution supports time attendance, access control management, abnormal temperature reporting, device management, and data statistics.
Provide offline version, LAN version, Online version, middleware version, and independent deployment, you can access your own system.
Click to Get information and differences for each version.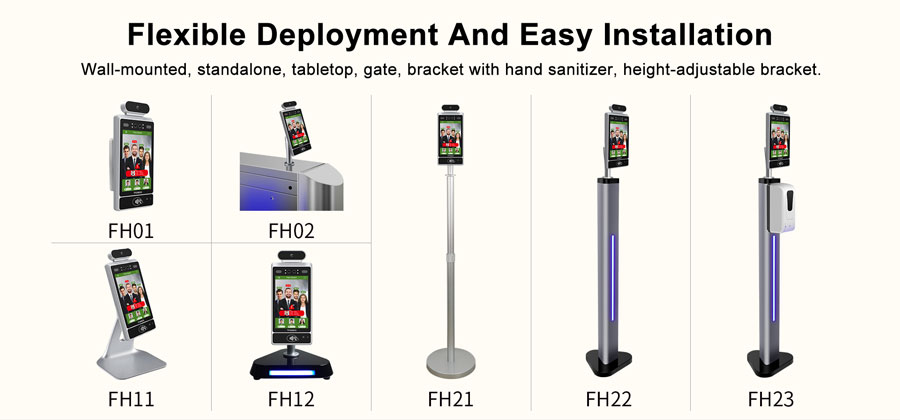 Flexible Deployment And Easy Installation
A variety of brackets meet the needs of changing scenarios, such as enterprise employee health checks, human flow temperature screening at checkpoints, and so on.

Wall-mounted, standalone, tabletop, gate, bracket with hand sanitizer, height-adjustable bracket.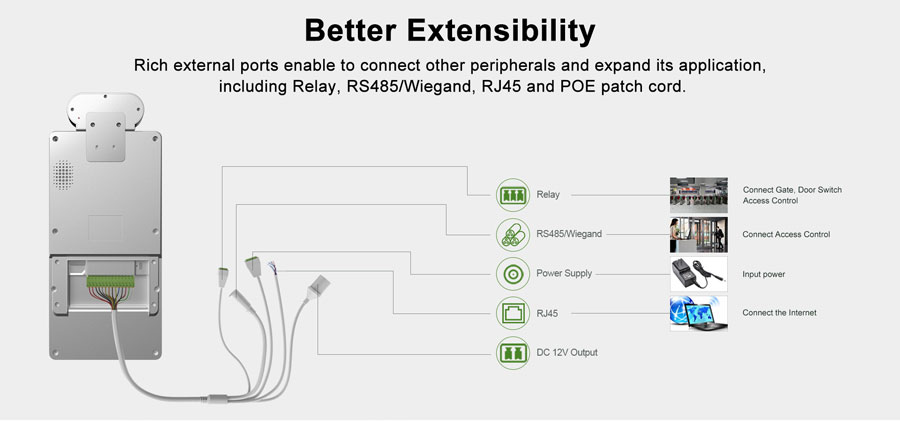 Better Extensibility
Rich external ports enable us to connect other peripherals and expand its application, including Relay, RS485/Wiegand, RJ45, DC port, and POE patch cord.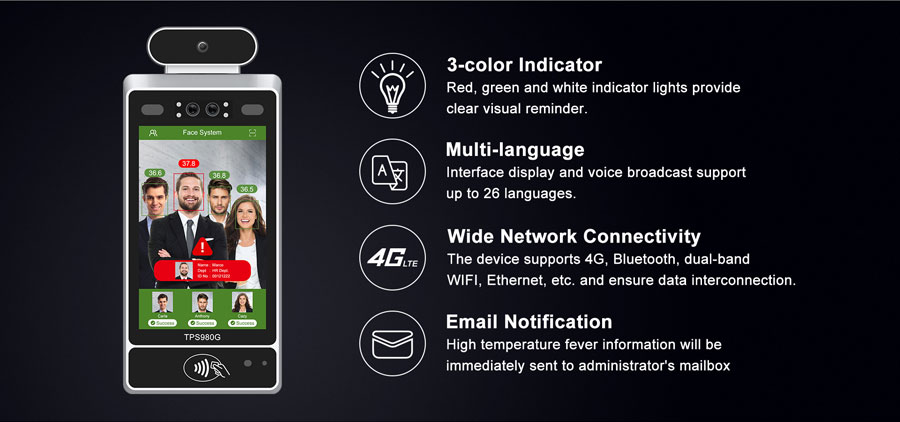 More Details
3-color Indicator:
Red, green, and white indicator lights provide a clear visual reminder.
Multi-language:
Interface display and voice broadcast support up to 26 languages.

Wide Network Connectivity:
Supports 4G, Bluetooth, dual-band WIFI, Ethernet, etc. and ensure data interconnection.
Email Notification:
High-temperature fever information will be immediately sent to the administrator's mailbox.

Privacy Protection:
Support temperature measurement/face/ temperature measurement and face version


Applications
Customs / Offices / Schools / Airport /Retail / Factories / Public Transportations / Sports Field, etc
The application software supports personalized customization to meet the needs of different usage scenarios.
Cases Study
Telpo's temperature measurement products have already provided stable and efficient initial fever checks for small and medium-sized enterprises, universities, churches, retail stores, restaurants, bus stations, etc.