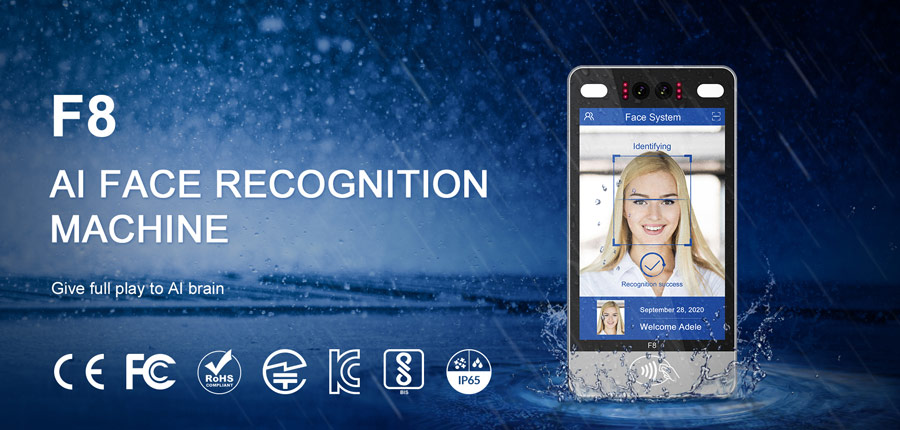 SmartFace F8
AI Face Recognition Machine
GIve full play to AI brain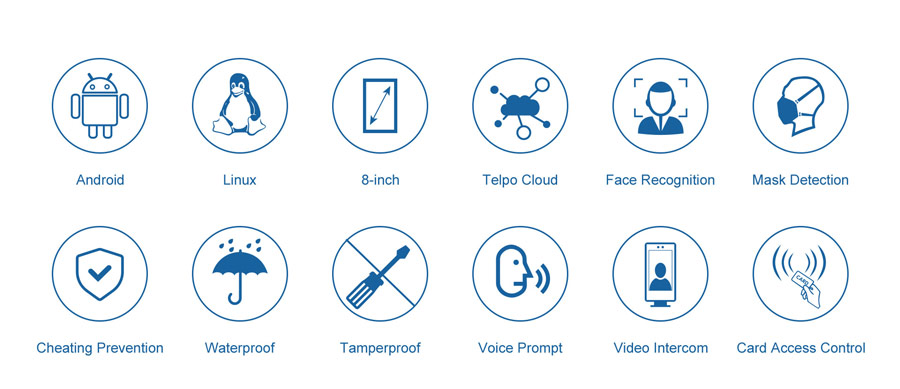 Telpo SmartFace F8 is the ultimate face recognition product with powerful performance as follows.
Linux or Android OS, 8-inch Touchscreen, Telpo Cloud, Face Recognition and Mask Detection, Cheating Prevention,
Waterproof, Tamperproof, Voice Prompt, Video Intercom, Card Access Control, Flexible Deployment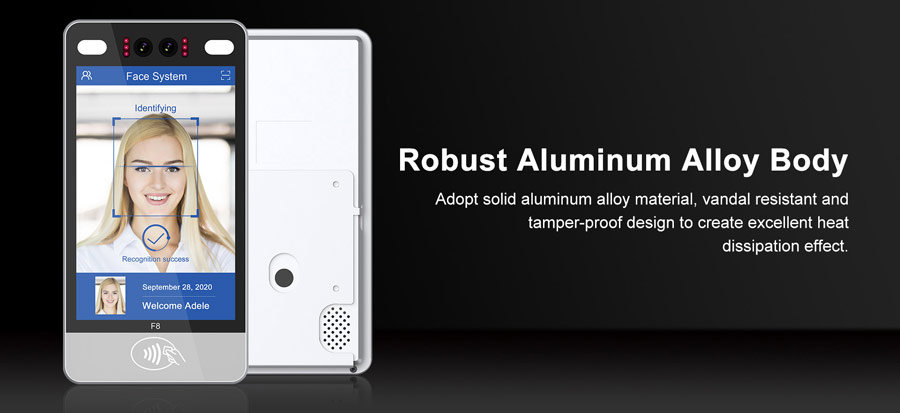 Robust Aluminum Alloy Body
Adopt solid aluminum alloy material, vandal-resistant, and tamper-proof design to create an excellent heat dissipation effect.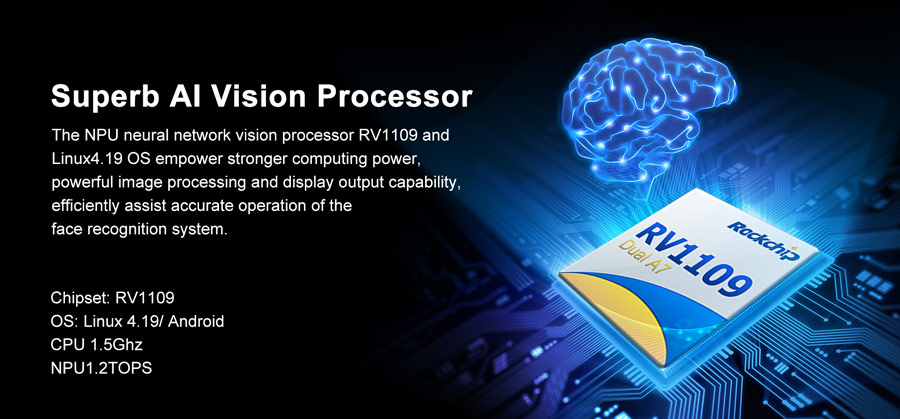 Superb AI Vision Processor
The VPU NPU neural network vision processor RV1109 and Linux4.19 OS empower stronger computing power,
powerful image processing, and display output capability, efficiently assist the accurate operation of the face recognition system.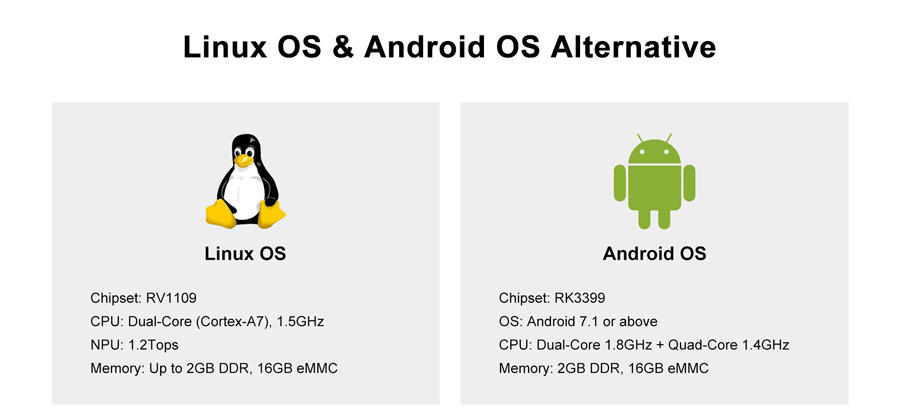 Linux OS & Android OS Alternative
Android or Linux systems can be chosen. The latter features openness, multi-user, multi-task, device independence, rich network communication, reliable security system, and good portability, which endowing face recognition with more expansibility.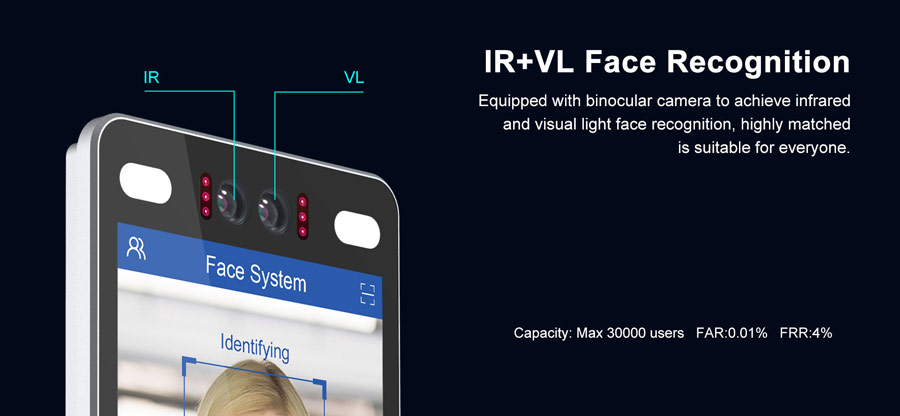 IR+VL Face Recognition
Equipped with a binocular camera to achieve infrared ray(IR) and visual light(VL)face recognition, highly matched is suitable for everyone.
Capacity: Max 30000 users
FAR:0.01%
FRR:4%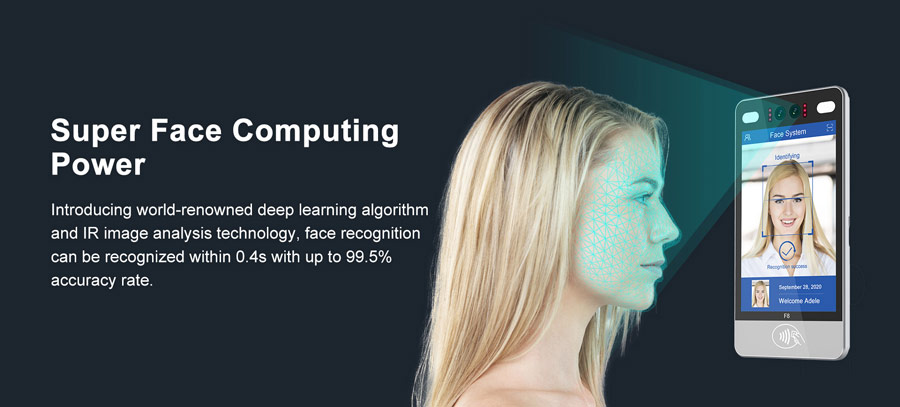 Super Face Computing Power
Introducing world-renowned deep learning algorithm and IR image analysis technology, face recognition can be recognized within 0.4s with up to 99.5% accuracy rate.
√ Changeable light condition (strong frontlight, strong backlight, insufficient light)
√Adapt to facial changes (wear glasses, hats and makeup)
√ Super anti-fake performance (photos, video,3D mask)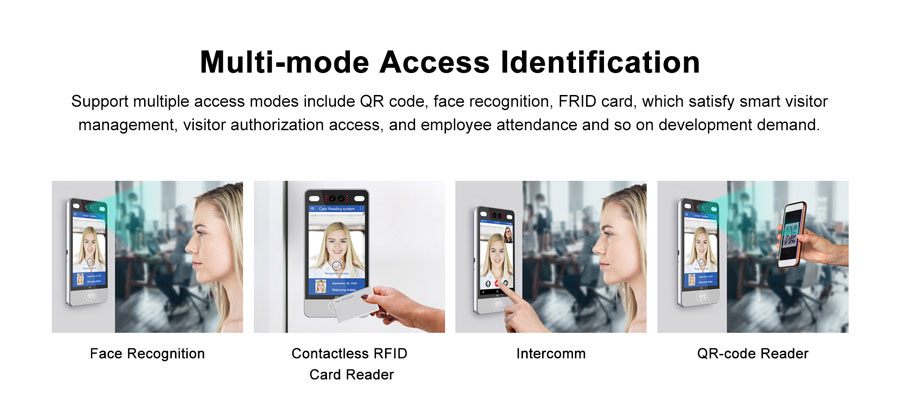 Multi-mode Access Identification
Support multiple access modes include QR code, SIP Viode Intercomm, face recognition, RFID card,
which satisfy smart visitor management, visitor authorization access, and employee attendance, and so on development demand.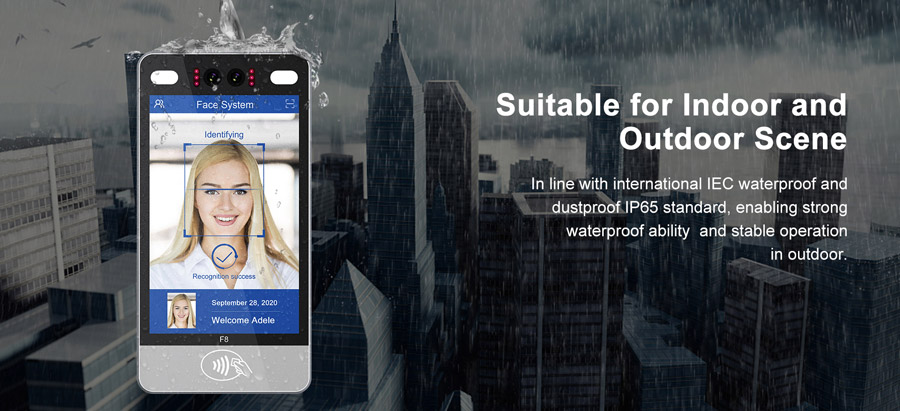 Suitable for Indoor and Outdoor Scene
In line with international IEC waterproof and dustproof IP65 standard, enabling strong waterproof ability and stable operation in outdoor.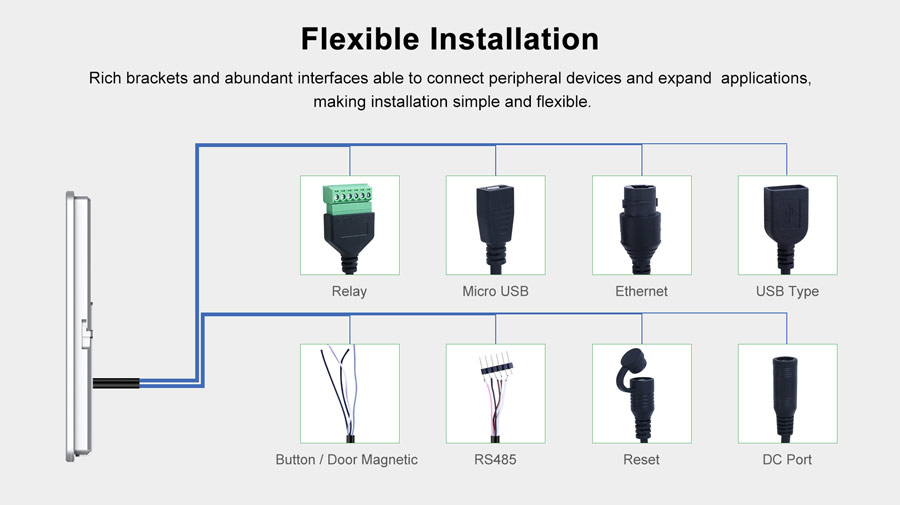 Flexible Installation
Rich brackets and abundant interfaces able to connect peripheral devices and expand applications, making installation simple and flexible.
● Interfaces: 1 DC Port, 1 RJ45, 1 micro USB, 1 Wiegand Input, 1 Wiegand Output, 1 RS485, 1 RS232, 1 Relay, 1 USB TypeA, 1 I/O, 1 Reset
● Optional Brackets: Desktop, Stand-alone, Turnstile Gate, Wall-mounted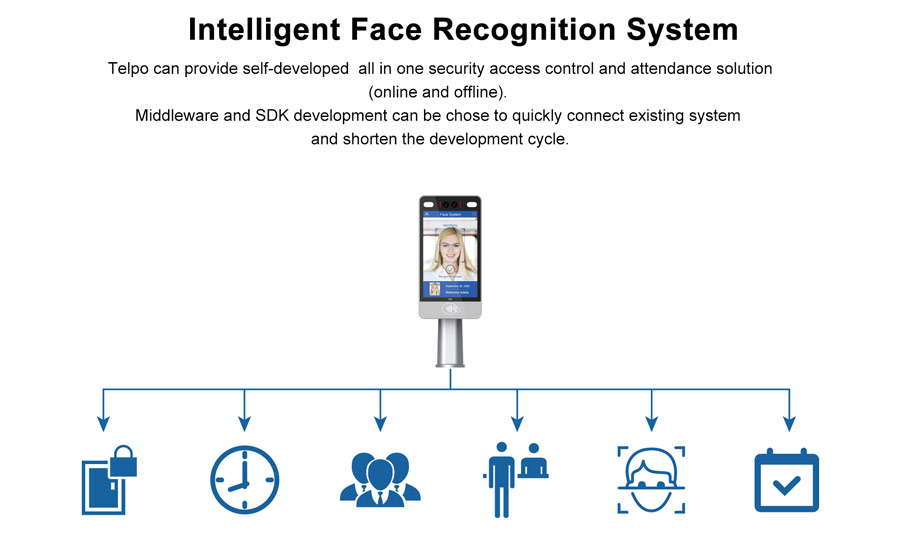 Intelligent Face Recognition System
Telpo can provide self-developed all in one security access control and attendance solution(online and offline).
Middleware and SDK development can choose to quickly connect the existing system and shorten the development cycle.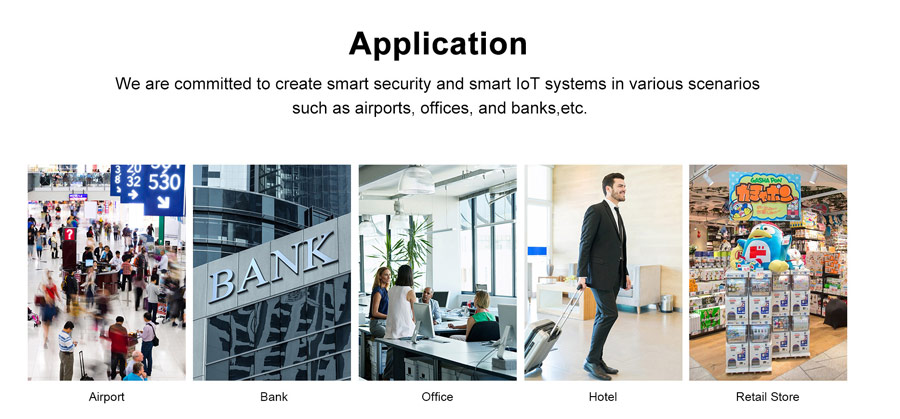 Application
We are committed to creating smart security and smart IoT systems in various scenarios such as airports, offices, and banks, etc.
Successful Cases
As a leading provider of smart face recognition, Telpo equipment provides the most advanced biometric security control and temperature screening solutions in different situations