COVID19 changed the focus of QR-code. In the field of public healthcare, QR code technology has been introduced to trace patients and related contacts in many countries. With the advent of Covid vaccines, a new round of epidemic prevention work is about to begin, and how to quickly screen vaccine populations becomes particularly important. Telpo specifically launched a series of health tracking QR code solutions.
Health QR Code Verification
In places with low passenger flow, personnel take the initiative to show their health code can be seen commonly. However, it is hard to identify whether the health code is expired or forged through the naked eye, resulting in inaccurate health status judgment and easy to cause loopholes in epidemic prevention.
In order to solve the current problem in manual verification of health QR codes, Telpo launched the health QR code verification scanner TPS508. Personnel only need to display their health code in front of the scan window of the health code verification terminal, and then relevant data will be uploaded to the platform and the verification results will be displayed. In this way, staff can quickly and accurately identify the reality of health code and complete the electronic collection of health qr codes.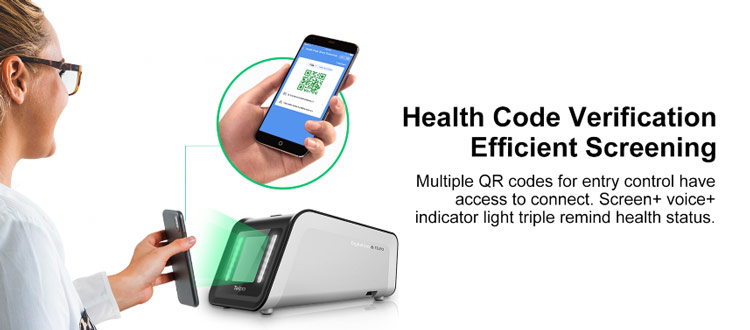 Health QR Code + Temperature Measurement
For places that require verifying health code and temperature measurement, the terminal support health code verification and self-service contactless temperature measurement could say to be the best epidemic prevention solution. Combined with gate or access control, it can realize 24-hour unattended work, reduce staff workload and the risk of infection.
Telpo health code temperature measuring terminal supports self-scanning health code or IC card as well as temperature measurement. Data will be reported to the platform in real-time to facilitate data analysis and management. Only personnel with normal temperature and verified health code could activate the gate and enter the area. Otherwise, they need to recheck relevant information by staff again.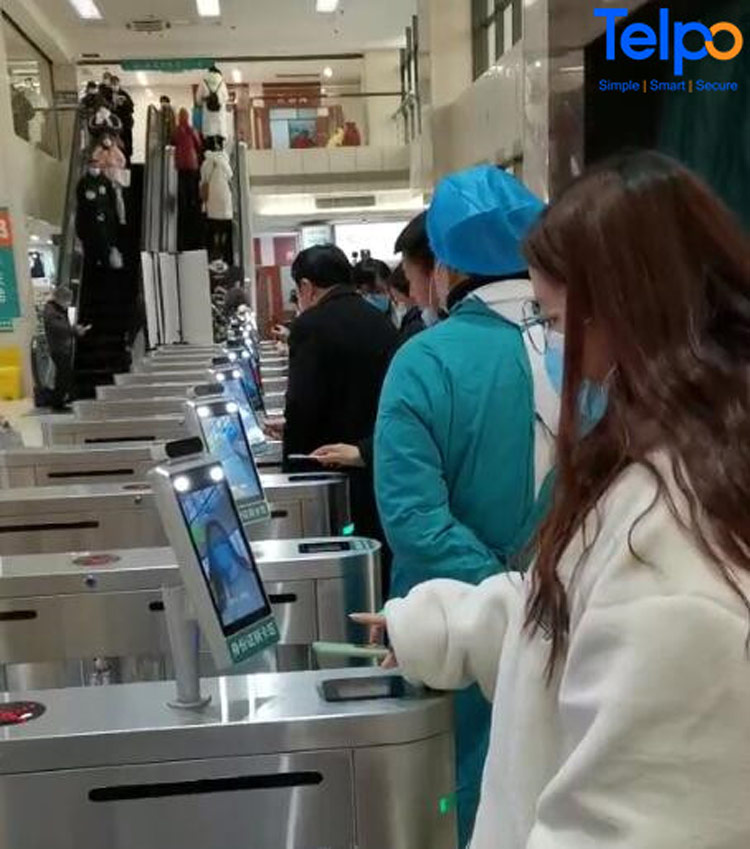 Health code + Temperature Measurement + Face Recognition
When it comes to identity registration and epidemic traceability in large crowd places, health code verification and face recognition plus temperature measurement certainly be the best epidemic prevention solution. As it can quickly carry out identity identification and body temperature screening, personnel gathering time will be greatly shortened.
In virtue of advanced temperature module and deep learning face recognition algorithm, the Telpo facial temperature measurement device TPS980T able to detect personnel forehead temperature while identifying personal identification even wear a mask. If a high temperature is detected, the gate will not open, the alarm mechanism will be activated and an alert email will be sent to the administrator email for triple remind.
Health Code +NFC/IC Card Recognition
High-tech might be a headache problem for children and the elderly, thus NFC/IC card can be an additional choice for identity verification. User-oriented and friendly design is conducive to ensure comprehensive carry out epidemic prevention measures.
Besides health code verification, Telpo able to offer a range of extended epidemic prevention solutions bases on your specific demand. Currently, the Telpo epidemic prevention solution has widely used at offices, schools, communities, hospitals, and so on places. If you want to know more details, welcome to contact us.
Tag: health code, health code verification, temperature measurement, face recognition, epidemic prevention solution, NFC
Brief Introduction: Founded in 1999, Telpo is a worldwide first-rate smart terminal and solution provider. It mainly provides the EFT-POS, cash registers, biometric devices, facial recognition machines, self-service kiosks, and bus validators. Telpo has served more than 1000 customers abroad, including government, banks, Telecom operators, police stations, Retail shops, and offices. Telpo adheres to R&D and innovation, aiming to provide more intelligent hardware for global partners.