Nowadays, COVID-19 has become global pandemic with uncontrollable spreading trend. Hyperthermia is the main symptom in the early stage of the epidemic. In order to satisfy temperature detection in various scenes requirement, Telpo has built a electronic thermometer family with different product modality. Telpo temperature measurement family realizes intelligent epidemic prevention and control by contactless temperature detection and scenario application.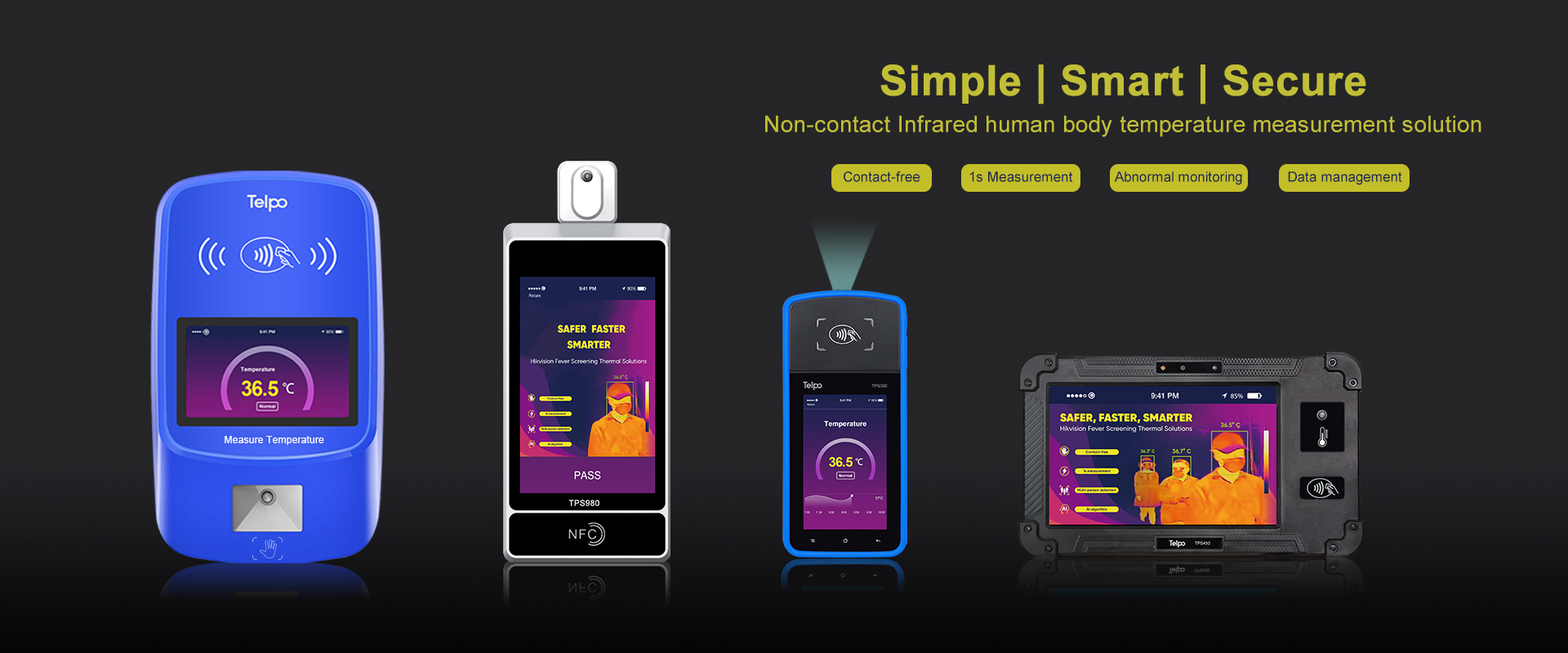 Solution Highlights
①Contactless Temperature Detection
Temperature sensor will contactless detect human body temperature. It adopts temperature detection chip of international famous brands such as Heimann and Melexis, and achieve second-level response speed.
②Blackbody Calibration
The blackbody characteristic is used for temperature calibration to reduce environment impact on temperature measurement accuracy. The temperature error is only ±0.3℃
③High Temperature Warning
Adopting infrared thermography detect body temperature. Once high temperature is detected, warning mode will be activated.
④Unified Data Management
Data management platform will be provided, and managers can real-time check and monitoring data and timely report abnormal situation.
⑤Multi-Scene Epidemic Prevention
Telpo temperature measurement family can provide a variety of products for selection and eight interface languages. There are wall-mounted, gate, stand alone and desktop bracket installation methods, satisfying different scenarios requirement.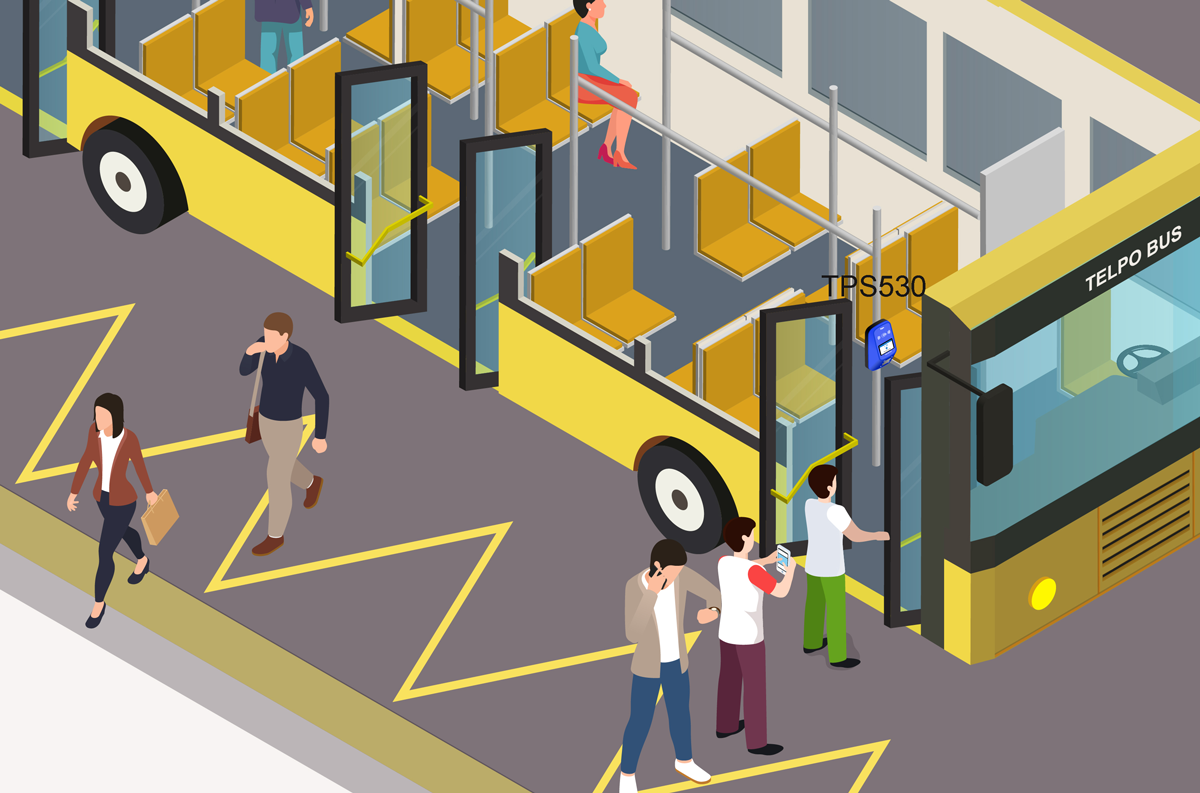 Solution Introduction
Telpo adopts cloud computing, big data, AI technology and other tools to launch scenario-based temperature measurement solutions. In virtue of infrared thermal imaging technology and blackbody calibration method, Telpo temperature measurement family is built. It is conductive to promote bus, customs, hotel, restaurant, retail and other scenes for temperature detection.
① Bus Version
Telpo bus version includes bus validator TPS530, temperature measurement module and Telpo Cloud platform. It supports NFC senseless payment, temperature detection, temperature display, voice broadcast, data tracing and other functions.
In virtue of contactless payment+ contactless temperature measurement method, it can achieve payment in bus and inform driver passengers' body condition by digital audio speaker. Abnormal temperature data will be sent back to platform synchronously, which is reliable for traffic tracing.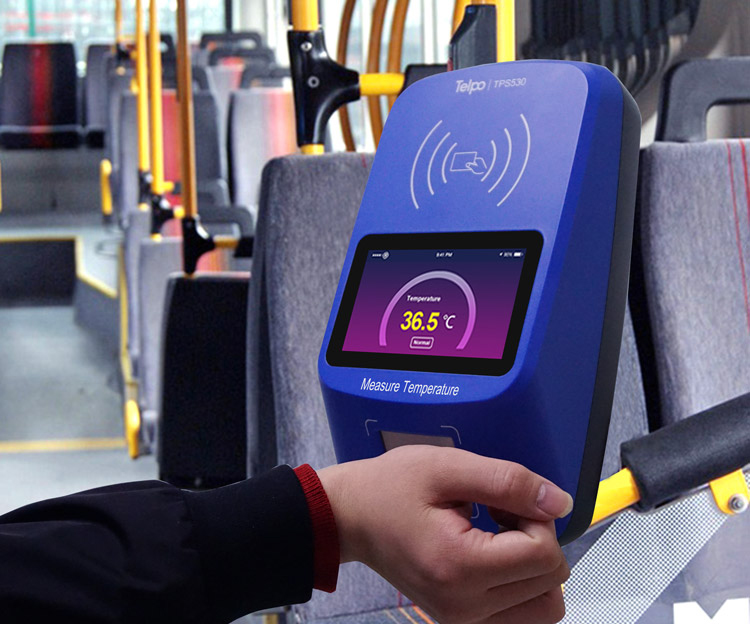 ②Office Version
Telpo office version includes temperature measurement terminal TPS980T, access control and attendance software and Telpo Cloud platform. It supports employee attendance, visitor registration, access control, temperature detection, voice broadcast, data statistics and so on functions.
With contactless identity authentication (visitor QR code/employee card) + contactless temperature measurement, it can meet various application requirements in office. This version will detect high fever personnel at second speed, checking and monitor data through the platform, timely report abnormal situation and further reduce management risk.
③Supermarket Version
Telpo supermarket version includes handheld terminal TPS450, temperature measurement module, attendance software and Telpo Cloud platform. It supports supermarket employee attendance, personnel temperature detection, voice broadcast and so on function. The method of contactless attendance + contactless temperature measurement can realize 24-hour temperature measurement. When abnormal body temperature is found, real-time voice warning is started, which will help company quickly measure and select employee with abnormal body temperature and guarantee public place safety. It can also achieve supermarket employee attendance requirement with extremely high cost performance.
④Mobile version
Telpo mobile version contains portable handheld terminal TPS350, temperature measurement module, IC reader and Telpo Cloud platform, supporting identity identification (IC card/passport), temperature detection, voice broadcast and other functions. It is portable and supports temperature detection at different angles (wrist/forehead) and synchronously upload data through Internet, effectively solve the shortcomings of manual handwriting registration.It will not only reduce cross-infection risks, but also increases traffic efficiency by more than 10 times and save time and reduce congestion.
Telpo is solidly located in smart terminal industry forefront as it sticks to technology-driven and market demand-oriented. With keen market insight, Telpo have developed smart payment, smart community, smart retail, smart restaurant, face recognition temperature measurement, government election and other scene applications to build "cloud + terminal" brand and complete solution.
Tag: temperature measurement family, contactless temperature detection, office, supermarket, mobile, bus version, Heimann, Melexis
Brief Introduction: Telpo is a professional smart payment partner who focuses on the ODM service 20 years. It mainly provides the EFT-POS, cash registers, biometric devices, facial recognition machines, self-service kiosks, and bus validators. Telpo has served for more than 1000 customers abroad, including government, banks, Telecom operators, police stations, Retail shops, and offices. Telpo adheres to R&D and innovation, aiming to provide more intelligent hardware for global partners.