When you're running a restaurant, you certainly know that customer retention rate and the turnover rate is crucial for normal operation. Solving the queuing and order waiting time is how a restaurant can get an edge.
In virtue of advanced cloud platforms and devices, like handheld android POS, the restaurant scene of queuing, ordering, serving and payment can be deeply connected. It will promote real-time interaction among servers, customers, and the kitchen, reducing waiting time, improve restaurant operation efficiency and optimize customer dinner experience. That's the reason why handheld mobile Point-of-sale is good to improve restaurant operation.
Driven by the idea of synchronizing the real-time dynamic between the front hall and the kitchen, Telpo launched the latest Android mobile POS M1. The cutting-edge configuration and powerful functions fit for every scale of restaurant faster and more efficient operation.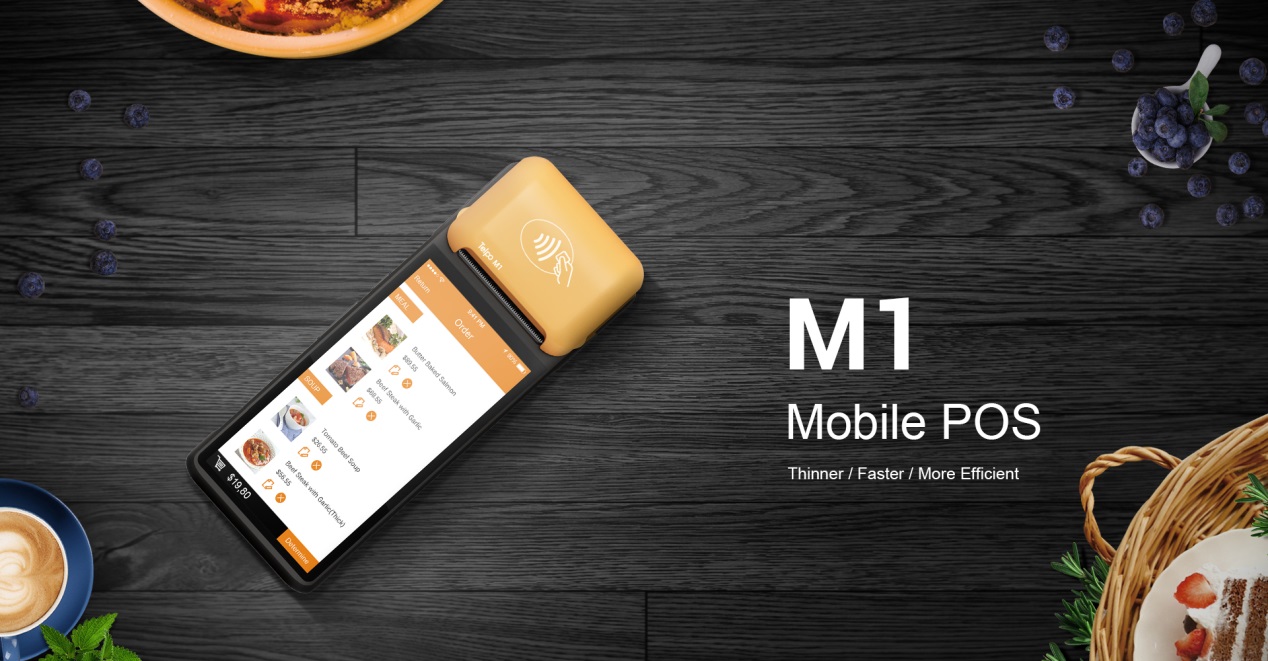 Mobile Android POS M1 Features:
16mm thickness + 6-inch display, easy to carry and comfortable use

Android 11 OS +Qualcomm 2.0 GHz Quad-core processor empower excellent performance

Thermal printer with 80mm/s printing speed supports label, receipt, web page, bluetooth, ESC POS printing

Professional hard decoding+ Telpo self-developed scanning software along with accurate ID/2D recognize

20W fast charging + overcharging protection technology ensure longer battery life

Support NFC payment and QR code payment






Advantage of Mobile Android POS
Improve restaurant working mode
The waiter can take mobile orders at the tableside through the Android mobile terminal. And the customer can scan the code on the table to self-order. After confirming the order with the customer through the handheld Android mobile POS, the waiter will print the bill and transfer it to the kitchen in real-time, so as to reduce missing orders and wrong orders.
Improve restaurant servicing speed
Customers can make an appointment online in advance and get the queuing number on site. The handheld Android mobile POS will voice broadcast to remind the progress in real-time. Besides, the kitchen staff can prepare dishes in advance base on the reservation information so as to improve serving speed and reduce the waiting time.
Friendly design with strong practicality
The 16mm thickness enables staff easy to hold and carried it in a pocket. Anti-skid, anti-oil and anti-backlight screen, professional hard decoding, fast printing and 20W fast charging meet different working environments, greatly ensure continuous work.
If you want to improve your restaurant operation efficiency and make mobile orders alongside the table, the handheld mobile POS will be a good choice. In this way, turn-over rate and revenue will be increased and customer experience will also be upgraded.
Tag: handheld Android mobile POS, mobile order, restaurant, queuing, ordering, payment
Brief Introduction: Founded in 1999, Telpo is a worldwide first-rate smart terminal and solution provider. It mainly provides EFT-POS, cash registers, biometric devices, facial recognition machines, self-service kiosks, and bus validators. Telpo has served more than 1000 customers abroad, including government, banks, Telecom operators, police stations, Retail shops, and offices. Telpo adheres to R&D and innovation, aiming to provide more intelligent hardware for global partners.
Related: M1