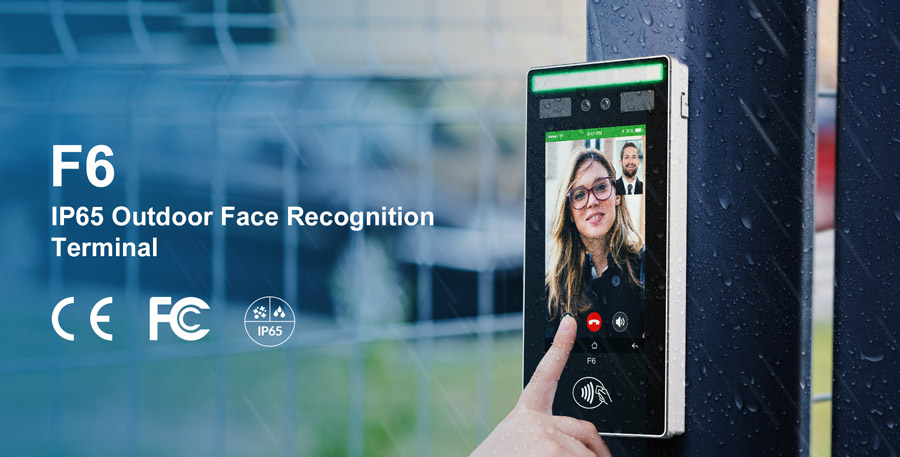 F6 IP65 Outdoor Face Recognition Terminal
Waterproof, Dustproof, Anti-glare, Tamper-protection, Video Intercom
Facial recognition is gradually being used in access control and time attendance, which creates an advantageous "touch-free" experience. With advanced deep learning technology and practical functions, the Telpo F6 facial recognition terminal brings better security and higher efficiency for access control and attendance tracking. It also has good waterproof and dustproof functions due to IP65 certification.
Certificates:CE, FCC, IP65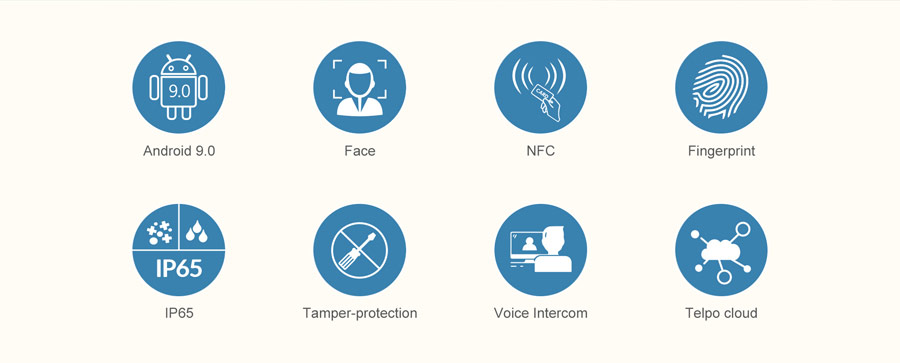 Main Features: Android 9.0, Face, NFC, Fingerprint, IP65, Tamper-protection, Voice Intercom, Indicator Light, Telpo cloud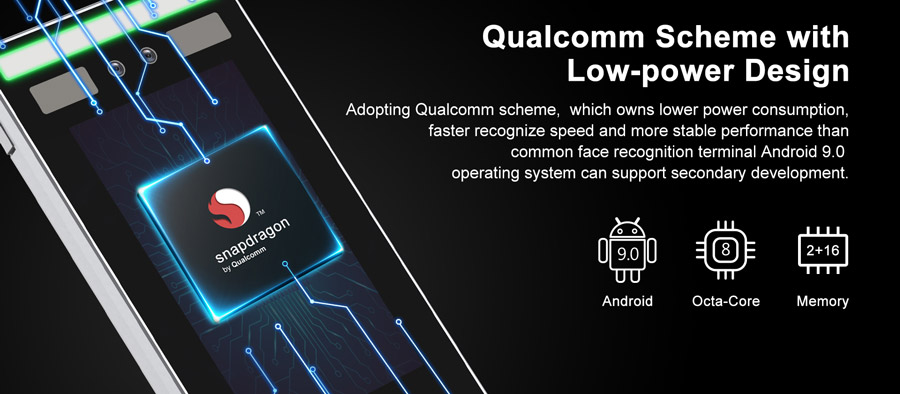 Qualcomm Scheme with Low-power Design
Adopting Qualcomm scheme, which owns lower power consumption, faster recognize the speed and more stable performance than common face recognition terminal
Android 9.0 operating system can support secondary development.
.Android 9.0 or above
.Octa-Core 1.8GHz
.2GB DDR+16GB eMMC
7-inch Sunlight Readable Screen
With 7-inch, 600*1024(380nit) touch screen, content can be clearly seen even in a strong light environment.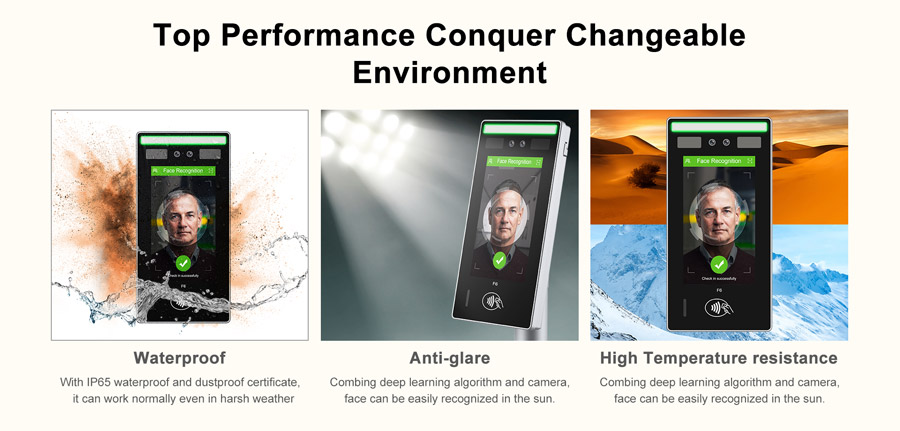 Top Performance Conquer Changeable Environment
Waterproof: With an IP65 waterproof and dustproof certificate, it can work normally even in harsh weather
Anti-glare: Combing deep learning algorithm and camera, the face can be easily recognized in the sun.
High-Temperature resistance: The operation temperature supports -20 to 50 degrees Celsius, fully adapted to various working environments with good heat dissipation.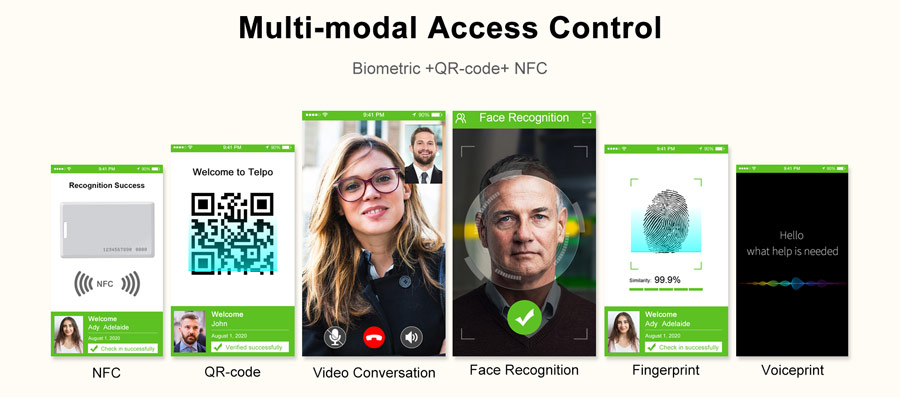 Multi-modal Access Control
(Biometric +QR-code+ NFC )
Biometric Access Control: The unique feature ensures super security and no require extra verification media, such as face recognition, voiceprint, fingerprint.
Visitor Authorization: The video intercom and visitor QR-code functions made it easier to communicate, avoid strangers intrusion and ensure company safety.
RF Card Access Control: NFC card(including HID card) readers can ensure secure access to physical and digital places.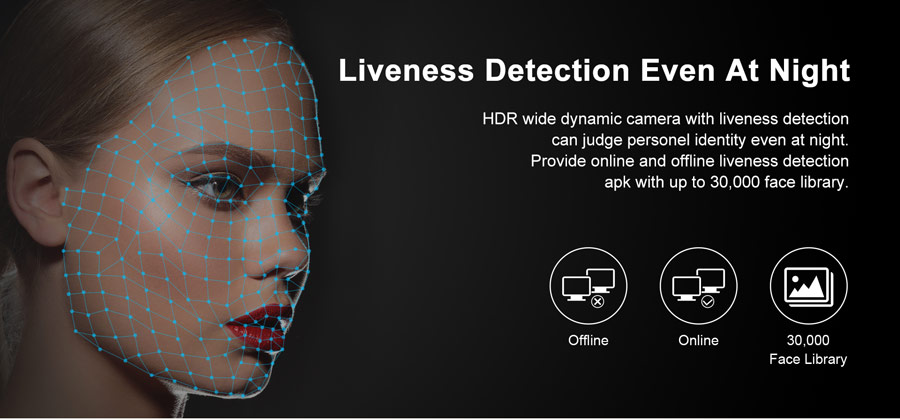 Liveness Detection Even At Night
HDR wide dynamic camera with liveness detection can judge personal identity even at night.
Provide online and offline liveness detection Apk with up to 30,000 face library.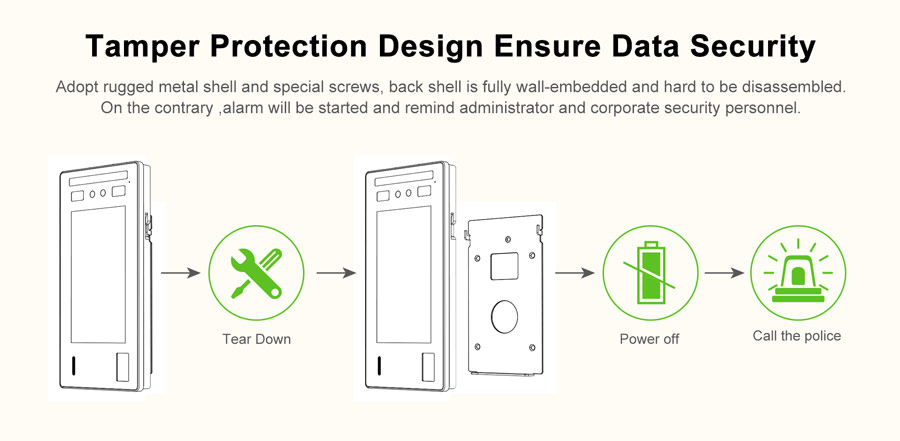 Tamper Protection Design Ensure Data Security
Adopt rugged metal shell and special screws, back shell is fully wall-embedded and hard to be disassembled. On the contrary, an alarm will be started and remind administrators and corporate security personnel.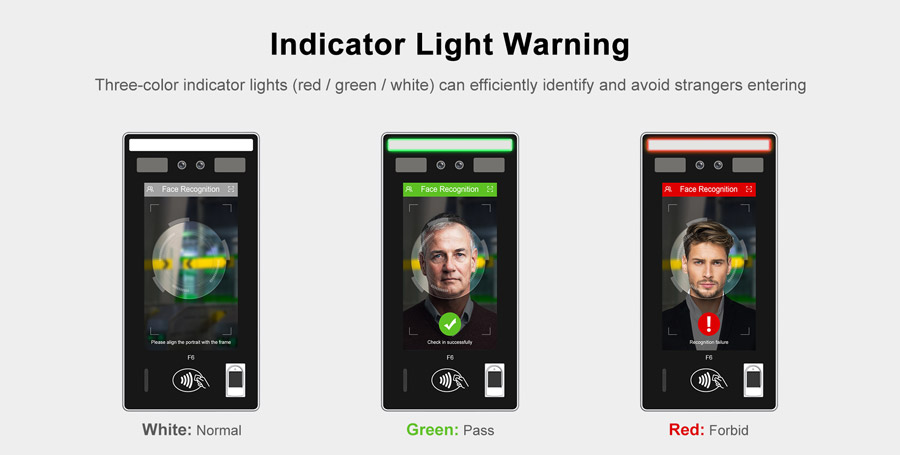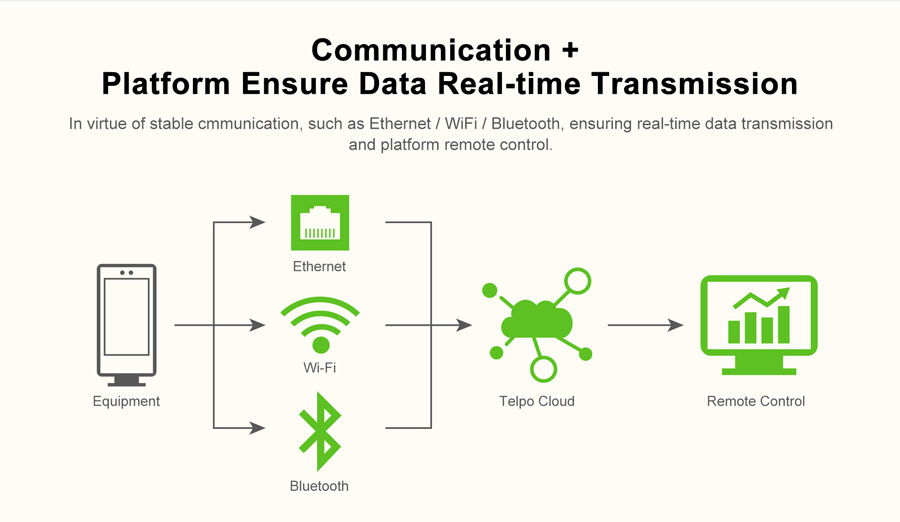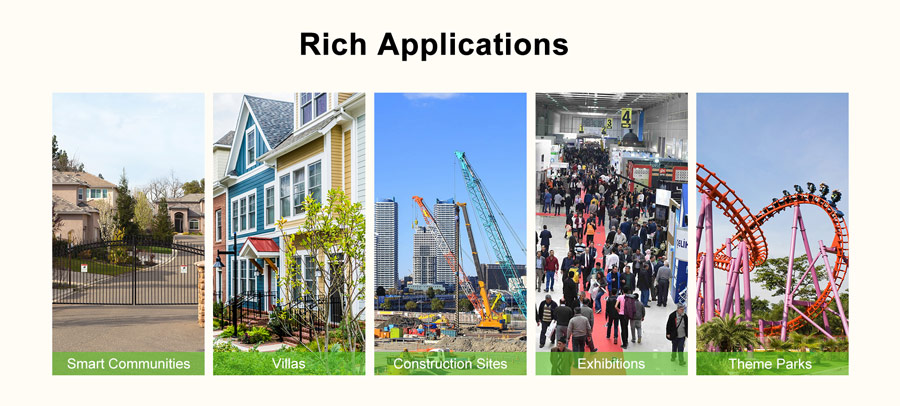 Rich Applications
Applied to face recognition access control scenarios such as smart buildings,smart communities, villas, rental houses, construction sites, park,exhibitions,etc