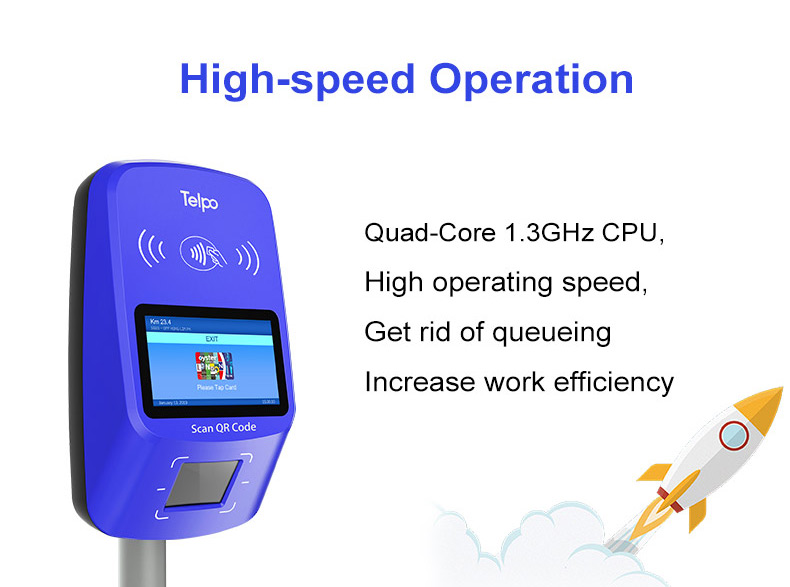 Telpo TPS530 is a smart android based bus validator for the bus fare collection. Telpo TPS530 is a new type of bus fare collection terminal that is stylish, durable and practical.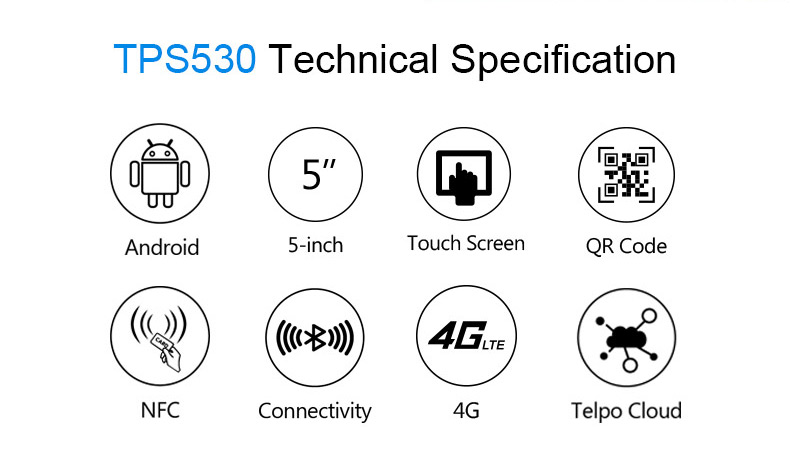 Sturdy Body
Its black body shell is sturdy and wear-resistant, making it easy to adapt to special conditions.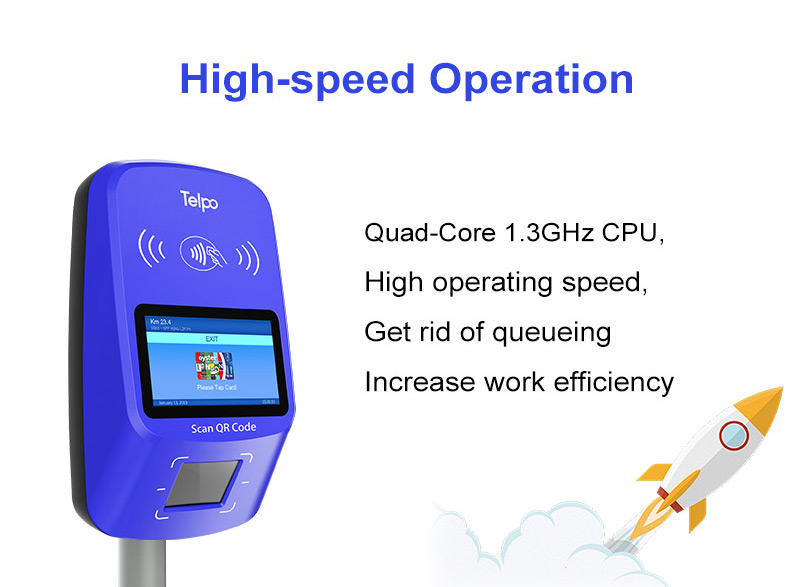 Android OS
Bus fare collection terminal TPS530 has good performance. A7, quad-core processor, Android 7.0 system is easy to develop, easily running a variety of programs. 1G RAM+8G ROM is large enough for ticketing record.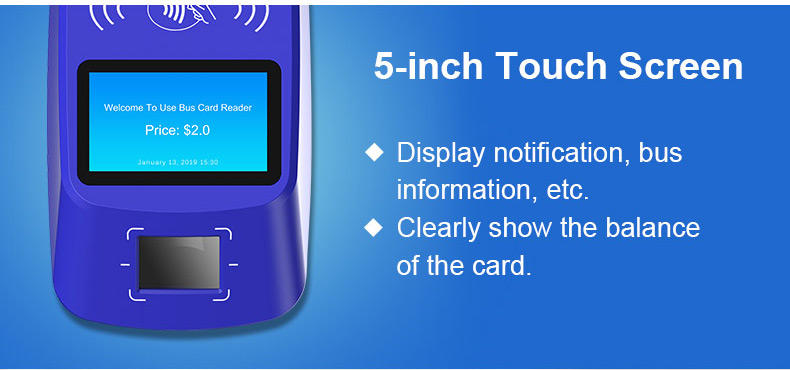 5-inch Touch Capacitive Screen
Easy to enlarge and shrink the 5-inch touchable capacitive screen. All the operations easily control for the drivers. Conductors can check recent ticketing records in time to avoid missing tickets. The display can clearly show the balance of the cards.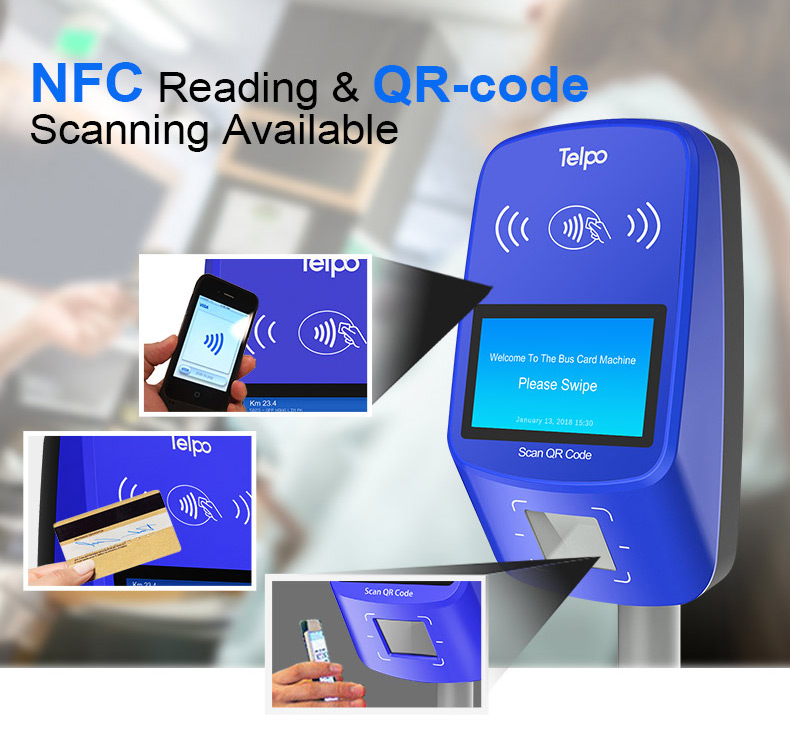 NFC Reader
Its contactless card reader supports the identification of public transit cards or payments by e-wallet or smartwatches.
Qr-code Scanner
The curved shape of the TPS530 allows the passenger to easily identify the QR code of the mobile phone as the passages can clearly position the QR-codes and the camera. Benefit for a fixed focus decoding camera is that it can be successfully recognized in seconds.
Voice prompts to alert drivers and passengers to charges. The language for voice prompts can be customized.

All Connectivity
Telpo ETM TPS530 bus validator has full network communication, such as 4G, 3G, WIFI, and GPS. The GPS which enables the owner of the bus to know where the bus is at any moment and how many tickets were issued. Telpo TPS530's GPS test score is high.
Customization Service
Telpo ETM TPS530 bus validator met the requirements of customization service, long term support, performance, low power, expansibility, and compact-size given by the customer.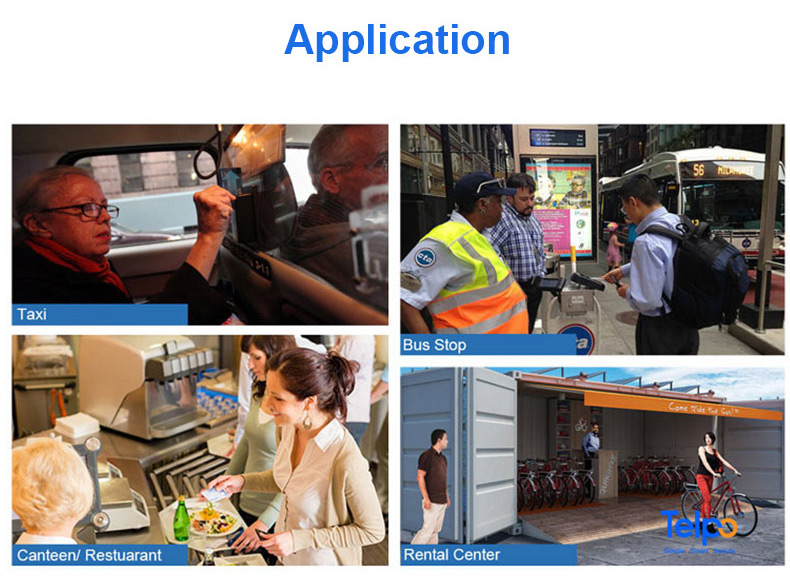 1. Bus, Taxi, Metro, Highway, supermarkets, gas station, unmanned retail store, theater and so on fast payments fields;
2. Government, Institution, Company, Factory, School, Hospital, Hotel;
3. Urban public transportation ticket payment system, Company shuttle bus ticket payment system, School shuttle bus payment system
Advantages:
1. Made of industrial grade material, fully adapt to special circumstances on bus
2. dustproof, waterproof, shockproof and anti-electromagnetic interference
3. Android OS, easy to use and development, with the high-definition LCD display
4. WIFI Communication + USB data acquisition, support remote upgrading to the main system
5. Contactless smart card read and write, light display for reading card
6. Live voice prompts, supports customize voice prompts in different languages: such as "student card", "employee card",
7. Dedicated stable power supply, voltage overload protection
8. Optional GPS positioning module, for global positioning and data transmission;
9. Great stability of data storage, data kept as long as 10 years even with the power outage
10. Can check the nearest ticketing records, to prevent ticket payment dispute.